April 16, 2021
1

found this helpful
Best Answer
Is the doll vinyl? If so, it is most likely a chemical reaction to something it was stored with or in. Like how old Barbie dolls get green ear when they have metal earrings in their vinyl body--these dolls react to various things like metals or even print in newspaper.
If it is vinyl you can try acne medications (those that have Benzoyl Peroxide) and try on a tiny place where no one will notice and see if it removes it. If so, you can use it liberally to remove the green.
If it stains or discolors or does not work, then the doll may not be vinyl.
For non vinyl dolls there is a product called CLR or CRL (or limeaway) that is a lime remover for the bathroom. Some people have luck with that on dolls made of plastic or fiberglass but again, try in a place where no one will notice.
Post back how it goes!

April 16, 2021
0

found this helpful
Thank you so much for answering my question! Ill try the suggestions you gave me and post a photo of how it went.

April 18, 2021
1

found this helpful
UPDATE #2 this her now in the exact same place I took her original photo before I started. The green has definitely faded but this is gonna take a long time since it seeped through her vinyl.
I really want all the green cleared but patience is key!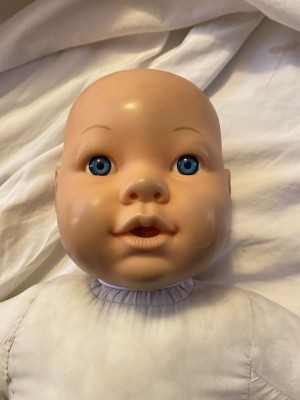 April 18, 2021
0

found this helpful
This is her in her outfit and her face is WAY lighter!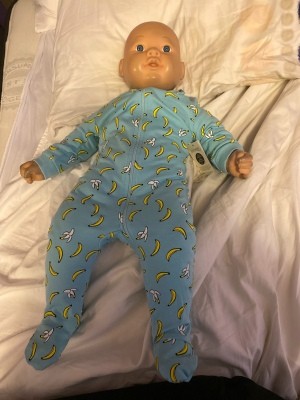 DianaHM
Bronze Post Medal for 2021. 31 Posts
April 27, 2021
1

found this helpful
Best Answer
I've found a post about this darkening on a vintage doll made by Sonni, Germany GDR. This doll has vinyl head and arms, and the torso and legs are plastic.
It says that the vinyl from which the doll's parts of vintage German dolls were made, over time, began to become covered with black spots or completely blackened. According to unverified data, this depends, first of all, on the composition of this vinyl, which does not tolerate moisture and direct sunlight, as well as on how thoroughly the vinyl components were mixed before making the casting. Some dyes oxidize over time in air, and in these places the doll turns black.
It is impossible to get rid of such damage to the end, but for a while you can refresh the faces of such dolls. And if you're lucky, the doll will delight you for a few more years with its beauty. If the process initially went too far, then the blackness will return, and you will have to carry out all the procedures again.
So, is it not mildew, dirt or mold. It is due to the quality of the vinyl.
Is your baby doll made by Sonni by accident?
www.etsy.com/.../baby-doll-vintage-doll-sonneberg...
The author of the post advises to act so:
You need a cream containing 10% benzoyl peroxide - for example OXY10. If the concentration of benzoyl peroxide in the cream is less, the process will be slower.
1. Separate vinyl parts.
Your baby doll does not have eyelashes. But if a doll has eyelashes, then they must be protected, otherwise they will fade. It is better in this case to remove the eyes with eyelashes.
2. Moisturize the doll's vinyl parts.
3. Apply cream to all black areas. In case of severe darkening, apply the cream to the inside too (inside head).
4. Wrap all the vinyl parts smeared with cream in plastic wrap and put them in a warm place, for example, near a warm heater (not hot).
5. Repeat this procedure every day or every other day. Wet, spread cream, cover with a film, put in warm place. Do all this until the vinyl parts brighten.
For the author of the post, this lasted a week.
Remember that this darkening is not due to the contact of any objects with the doll, but due to the composition of the vinyl. And this darkening is likely to recur in a few years.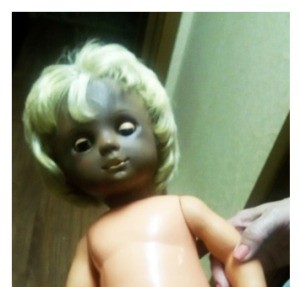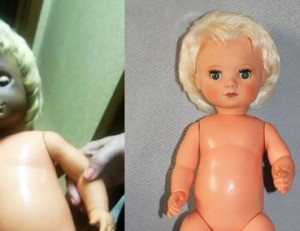 Update: I put acne cream on her and the green on her is fading so I think if I do it a couple more times the green might go away

April 17, 2021
1

found this helpful
Yay!! Thanks so much for the update! Hope she comes fully clean! Blessings!
Thank you for helping! Thanks for the blessing, hopefully she does get fully clean. Have a good day :)
April 17, 2021
0

found this helpful
I put her under some sunlight
I put her under some sunlight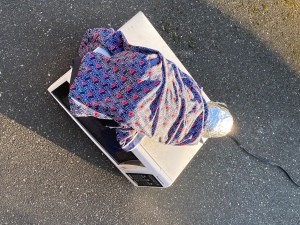 Jess
Silver Post Medal for All Time! 267 Posts
April 18, 2021
0

found this helpful
That's great! Please post a picture when you get her all cleaned up. It will help someone else with the same issue.

April 18, 2021
0

found this helpful
I will definitely post a picture I put her under the sun today and she is lighter. So the green is slowly fading away!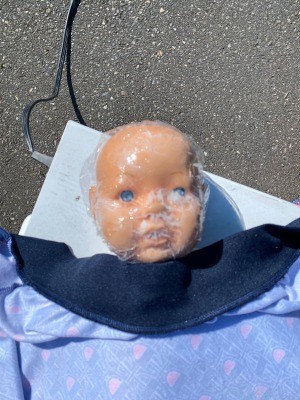 April 18, 2021
2

found this helpful
Sounds like you are having some success which is great because this is a difficult job and does not always turn out 'nice'.
PGHgirl has supplied all of the solutions that I've ever heard of - I've used Clearasil with some success and used CLR on Barbie's 'green ear' problem so these do work but occasionally will remove some of the skin color so try to do everything gradually - no hurrying - days are better than hours to wait.
If you continue to have problems you might ask about this on a doll forum:
www.tapatalk.com/.../

April 18, 2021
1

found this helpful
Thanks for the link, and yeah it is a pretty tuff job especially because its gonna take a while but Im willing to wait as long is this works! So far I am seeing some change so thats good.

April 19, 2021
1

found this helpful
I'm glad it is working for you as vintage baby dolls are so cute and we dislike seeing them thrown because of a problem that just might be 'fixable'.
Let us know if she loses any of her skin color as there are remedies for that also.