I make market bags from plastic store bags and colored trash bags. Here is a photo of a pink one I made. With most stores going with reusable bags now, I think people will enjoy these. I bought these bags at a dollar store for $1.00, 30 bags in a package, it used about 27 bags.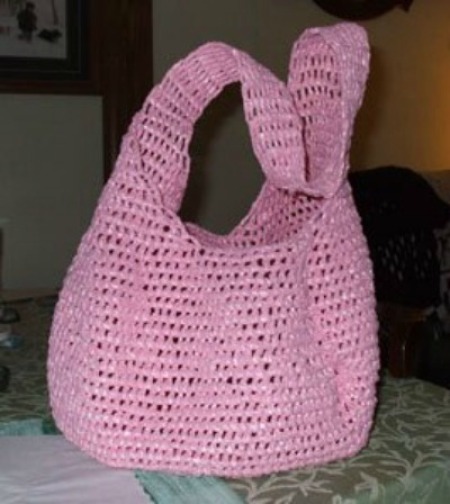 Comments
June 13, 2009
0

found this helpful
Top Comment
I am so sorry to you all, I had no idea there were responses to my bag until my friend came across it by accident and sent me the link to your comments! I used a pattern that was actually for a market bag made from cotton yarn. To make the strips I cut the handles off the plastic bags, then folded the bags up to about the size of a ruler and cut in about 1 to 1-1/2 inch strips, then looped the strips together and rolled up like a ball of yarn.
I think I used an H hook, or an I hook. I made one with a much bigger hook, but it was bulky looking and did not like it as much.
Again, I am so sorry for not replying to ya'll.
March 31, 2012
0

found this helpful
Top Comment
I did something like this about 8 years ago, although my pattern was different. My bags have two side handles and were made from store bags, plastic bags that carrots, celery, etc, came in.
It made me laugh each time I used my grocery bags that were made from recycled grocery bags. Isn't it amazing how strong they are and how well they hold up? Yours almost looks too nice - like it could be used as a purse. Maybe you should try a smaller version. I really like the pink.