February 7, 2008
2

found this helpful
Grow a "Holiday Tree" and keep it alive. Why take our gift of life from it? Give a live plant, not just a harvested plant. CO2 is their food, let them eat more. They breath out oxygen.

Every day is a holiday to me in me. Be nice, what goes around might come around.

By Anonymous from Oakland, Maine, USA, Earth, MilkyWay, Universe
November 28, 2008
0

found this helpful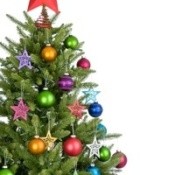 Tips for Saving Money on a Christmas Tree as suggested by the ThriftyFun community.
Thrift Stores
I bought a 6 foot artificial tree 5-6 years ago for $17, and I intend for it to last several more years by continuing to pack it up carefully. I've seen artificial trees at Goodwill, too, which is an even better way to save.
By Melody T.
The 30 Year Old Christmas Tree
We had a Christmas tree for almost thirty years, that we got at a garage sale. I bought another tree, at a garage sale, that didn't have all the pieces. My husband drilled more holes in the "trunk" of the tree and we inserted more limbs to make it fuller.
Just last year, we had to buy another tree because I broke the "trunk" getting it out of the attic. Bummer! I taped it up with duct tape to last until after Christmas! Then, we bought one at 75% off after Christmas. So, this year we have a brand new tree for the first time in our 34 years of married life.
By Artlady
Cut Your Own Tree
If you live in an area that has Christmas tree farms, drive out with the family and cut down the perfect tree. You know it is very fresh, so will last longer. The price is usually cheaper than buying from a lot and it is a fun outing. It is a Christmas tradition at my house to go out right after Thanksgiving and pick out the tree. My kids look forward to it every year.
By Stephanie
Buy a Display Tree
If you buy a "display" tree after Christmas you can save a bundle. I got a 6 foot tree, with a real tree stand at Walmart several years ago for $10. The box was gone, so I bought a Tupperware tub to put it in - I think the tub cost more!
If you live in the country, you could ask a local landowner if you could cut a tree on their property. This makes a nice outing for the family and costs nothing, except the expense of the outing. You have to get a stand, of course, but it is possible to improvise.
By Louise B.
Decorate Without a Tree
Don't get a tree. I stopped getting a tree over 15 years ago and I love it. I decorate with other things. I also have a houseplant that is a type of pine, and sometimes I decorate that with ribbons and such. I actually prefer not having tree taking up space, needles falling out, or in the case of the fake, one, having to take it down and storing it all year. Trust me, once you give it up, you'll wonder why you waited so long.
Get Kids Involved
We have an artificial tree that we got on clearance almost 15 years ago. It is a pain to assemble and I wanted to just buy a real tree for once. Well, our KIDS love that old tree so much that they took over the job of putting it together. It is tradition to them. The oldest one reads the instructions and the younger two put it together. Their cooperative efforts are very cute, so I usually videotape them for awhile. Anyway, I couldn't give that old tree up if I tried because I am out-numbered!
By Ann from Wisconsin
Many people don't have a Christmas tree at this time of year due to financial hardship.
Trees don't have to be the traditional pine tree. Be creative and inventive. Almost anything can become a tree of sorts and the more unusual the better. It will bring back floods of memories for years to come.
Here are some ideas to have a tree without going and buying one:
Cut a branch with or without leaves from your garden and place in a pot of soil. Give it some water every few days if necessary.
Draw a picture of a tree on a large piece of paper and decorate. Hang on the wall.
Decorate an indoor plant, or bring an outdoor plant inside for a few days.
Borrow a tree from a friend with a spare one.
Stack empty cereal boxes etc (even Tupperware or plastic containers will do) from largest at the bottom to smallest at the top. Tape together and cover in green fabric or a tablecloth. Use safety pins to make decorations stick or attach an elastic band to bunches of the cloth( like when tie dying) Hang decorations from them.
Make a tepee shape from tomato plant stakes and push into dirt in a pot. Wrap with string or wool randomly around the stakes and tie off.
Decorate your extra special "OLDEN DAYS TREE" with cardboard cutout gingerbread men, snowmen, trees and stars, a homemade garland from popcorn, Christmas catalogue paper chains, wool or even coloured string. Small treasures belonging to each child can be hung on the tree to make it more special for them. Scrunch up some catalogue paper into balls and hang on the tree.
The point to all this is that is the thought that counts. Even having no money at all does not mean that children (or adults for that matter) have to forgo the tradition and excitement of decorating a "tree".
I wish all of you a merry and wonderful Christmas and hope this helps some of you in having a tree to celebrate the season with.
By Kfromoz from Australia