I am going to try this, and put it on the table for cards to be displayed on.
You take a tomato cage, clean it and turn the prongs into a point. The prongs will be at the top. You take some wrapping paper, preferably green and put it around the top and tape it with duct tape.
Then you cut a circle on the bottom of green paper and put that at the base. I am not sure how they attached this, probably with duct tape or regular tape, perhaps. You now have a Christmas card holder for your cards, and you attach them to the "tree" with binder clips. I cannot wait to do this for the table.
Most years, I just hang a string and put them on it, or put them on the cabinets and refrigerator with magnets.
I also may decorate with more things such as the silver garnish you buy at the Dollar Store, and a few other things. This tree was so cute, I had to share it with you on Thriftyfun.
If you want to see a photograph, just click the link and it will take you to Family Fun Magazine.
Source:
By Robyn Fed from Tri-Cities, TN
Here is a cute hanger for your Christmas cards made from felt, little clothespins, and ribbon.

List of Materials:
red and white felt
white embroidery floss (optional)
little clothespins (about 1 3/4 inch)
tiny clothespins (1 inch #3)
1/2 inch ribbon or fine twine
hot glue gun and glue sticks
paper patterns in the packet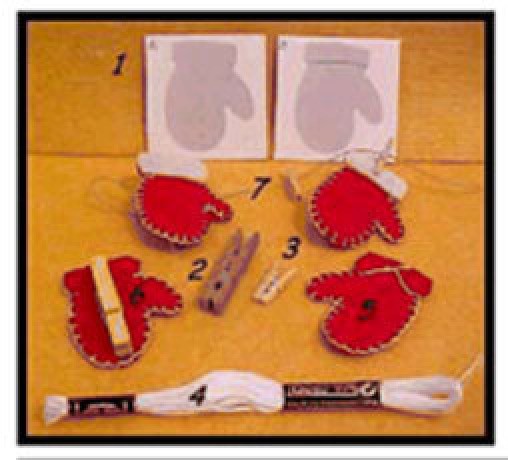 Instructions:
Cut patterns A and B. Pattern B is cuff only.
Trace patterns onto felt with pen and cut out.
Make as many mittens as you like. I used 6 mittens on 3 feet of twine.
Note: Some of the lines will remain when you cut them out, so trace on the side that will be the back. At this point if you would like to add an edge, do so in a button hole embroidery stitch.
Hot glue the cuff in place, tucking the ends of the thread underneath.
Position the little clothespins (#2) in the center and near the tip of the mitten leaving room at the cuff to clip on the tiny (#3) clothespins.
Hot glue to mitten.
Tie a loop at the end of the ribbon or twine, and string the tiny clothespins on the ribbon.
Tie a loop at the other end.
Clip mittens to ribbon.
Clip cards to mittens.

Download Mitten Card Holder Instructions in PDF format

By Harlean from AR
Does anyone know how to make a nice, budget-friendly Christmas/holiday card holder with things from around the house? I want one that can hold a decent amount of cards and not easily fall apart or have the cards fall down? I have three boys.
Thank you.
By Jeri from Fountain, CO
Answers
December 8, 2009
0

found this helpful
Use a can opener to remove both the top and the bottom of a juice can; or remove the bottom of a potato-chip can. Use Christmas colored yarns to wrap the can, top to bottom, dropping the yarn in the top of the can, out the bottom, around the outside to drop into the top again until you can no longer see the can. The you just open the cards (like a book) and put one of the pieces of yarn in it, (holding it at the fold.
I hope that makes sense!
December 8, 2009
0

found this helpful
Here's a greeting card holder that your boys can make.
December 9, 2009
0

found this helpful
You could staple the back of cards to a long ribbon and tie top ribbon to something strong and let cards hang down against the wall or attach both ends of ribbon to door frame and have cards hang down.
December 14, 2009
0

found this helpful
I found a perfect shape and size basket on sale almost three decades ago and spray painted it with rustoleum high gloss red. Can move it from table to table and some years set in on the floor in strategic corners.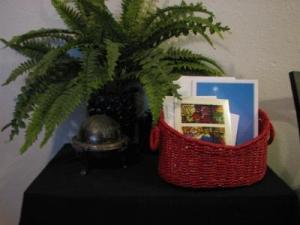 Answer

this Question

...