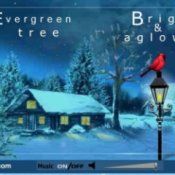 If you like to send cards but you really like to send them on the computer, a great site is www.123greetings.com
You can choose a card you want. You have enter your email address and that of your friend who you are going to send it to. After you fill out the information, you can send it. It gives you the option of getting notification of when they open up the card. There are some very pretty ones on this site. Click here for a sample.
When you click on the link it will take you to a page and the card will load. When it is loaded, it will tell you "play". Click on that. There will be other things to click on since this card is interactive. It has music, too.
By Robyn Fed from Tri-Cities, TN
Comments
December 21, 2011
0

found this helpful
Robyn, I love 123greetings! A wonderful source for all greetings.
December 22, 2011
0

found this helpful
The last time I used them I got a virus warning so have been afraid to use them since.
December 22, 2011
0

found this helpful
I'd like to recommend www.llerrah.com as I join the site every year. The cost is $8 per year and you can send unlimited number of cards. They are absolutely gorgeous and have wonderful music attached. They offer a very large number of categories. Just check it out before you decide. I have found it a life saver for a disabled person who can't get out to shop for things. I've used other sites too on ocassion, but now I only use this one site because it is safe and filled with beautiful poetry and music.