November 28, 2008
3

found this helpful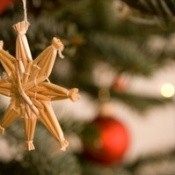 Tips for saving money on Christmas ornaments as suggested by the ThriftyFun community.
Handmade Ornaments
Every year we make new ornaments of a completely different style. There is a cow made from parts of an old patchwork quilt, a bread dough girl painted with watercolors and sealed with clear nail polish, a golden wreath from puzzle pieces, a plastic ball with a glitter glue Christmas tree, salt dough hearts and birds made by our children long ago, and on and on. It makes for an eclectic and beautiful tree. I prefer all white lights, but sometimes we use all the different colors. The angel at the top is made from one daughter's Barbie.
By Coreen Hart
Poinsettia Ornaments
Buy a few bushes of silk poinsettias from the dollar store and pop them off their stems. Hot glue an ornament hook to the back, and you've got several very pretty ornaments for very little money. I use white ones on my tree along with gold balls and white lights, and it looks very pretty.
By Melody T.
Buy On Sale
My daughter got married in July of last year. We bought lavender and white ornament balls to put in bowls as centerpieces. We got them all at 90% off after Christmas! So, for Christmas, we re-used the white ornaments on the tree. We have three different sizes of white shiny balls. Double the use at a darn good price to begin with. We haven't found a use for the lavender ones... yet! My creativity is always working.
By Artlady
Creative Ornament Ideas
I don't do a big tree anymore since I live alone. But as my kids were in school and growing up, out tree had no store bought ornaments except lights and tinsel. Our ornaments were gifts, or handmade at school or at home. The paper chains or the popcorn chains, or both, were hung up last. Small toys made the tree. We traced coloring book pictures onto shrinky dink plastic, colored them in and shrunk them in the oven for the tree.
One year we made large sugar cookies, one for everyone with their name painted on before baking to hang on the tree. This included teachers, etc, too. We wrapped up in paper or foil lifesaver candy rolls, candy boxes, etc. Tied them with colorful yarn to attach to the tree. You can make the clove apple or orange sachet balls ahead of time to hang on tree when ready. It takes a little while for the sachets to shrink down.
If there are babies in the family, small baby rattles can be hung on the tree. The ideas are endless, use whatever you have at home. Let your imagination run wild.
By Linda
Check Out The Dollar Store
Christmas decorations don't have to be expensive to be beautiful. Several years ago when I was working as a church secretary, I found all the decorations I needed at the local dollar store: a table-top-sized tree, miniature ornament balls and bells, and silver and gold tinsel to wrap around my desk, file cabinet and copier, as well as the doorway. Not to mention miniature lights, which I still have! I was able to lavishly decorate my office for under $15 tota. And the best part was, these ornaments were hardier than traditional glass and reusable, too.
Buy Materials
One thing that I've learned is buying materials rather than ready made decorations saved me a ton of money. When I started to coordinate the colors, I saved even more! And, if I can reuse part of what I saved from last year, my savings are really multiplied.
I usually buy a roll of ribbon every year and use it with craft notions I've collected. Sometimes, I buy something new like bronze colored leaves and use them with notions I already have like crystal clear and gold beads strung on copper wire to make little flower shapes and bunched then together with silver and gold ribbons. It's a really rich, Victorian look that is put together with almost no money.
This can serve many needs, not just for ornaments but even for adding spark to table decor or gift bows!
By ramona
Make Ornaments for Grandkids
Every year, immediately after Christmas, I buy or make one ornament for each of our grandchildren. This is really the cheapest time of year to make purchases of this sort. I put the year and their name on their ornaments and save them in a personal box for each child.
Now, with 9 grandchildren, the oldest being 19 years old, we have no need for other ornaments as these completely fill the tree. On Monday the 19 year old will move into her own apartment so we have bought her a small tree and will give her the box with her 19 ornaments in it to decorate her tree. With a string of lights she will have all she needs to begin her new Christmas traditions herself.
Any grandchildren who happen to be here at tree decorating time get to put their own decorations on the tree as well as those of the cousins who are not present. They love choosing a cousin to do this 'favor' for.
By Dee
I need ideas for thrifty Christmas tree decorations this year. I would like to try a different theme, such as country, etc.
By ER
Answers
November 12, 2012
0

found this helpful
I love country, when I used to decorate for Christmas, the more "countrified" I could get, the better.
Cloth yo-yo's are easy, quick to make if you have scrap fabric. Can add alittle cotton and sew a button in the middle, and yarn for a hanger. I found rag wreaths on here, where you take scraps and tie to a ring for a wreath. I made a tree shape, and tied scraps with red,green and gold (not even holiday fabric) in them and then made a holiday bow.
In the south, we have sweet gum trees that drop "millions" of sweet gum balls. They can be sprayed gold or other colors and hung on the tree. There is a website called favecrafts.com, that have an enormous amount of crafts. The magazine Christmas trees are popping up on there and maybe here, too.
Even old Christmas cards can be used for ornaments, or glued to just about anything. You could decoupage a dish or can with old holiday cards.
Hope these few ideas will inspire you. Our thrift stores have alot of decorations to choose from,too.
Good Luck and Happy Holidays!
November 12, 2012
0

found this helpful
Gingham fabric torn in strips and tied in bows, pine cones tipped with white craft paint, cinnamon stick log houses would all make nice ornaments for a country tree. String popcorn and cranberries for garland. I actually used packing peanuts in lieu of popcorn and red wooden beads to make a longer lasting garland.
November 12, 2012
0

found this helpful
String popcorn...used to be you could even buy colored popcorn. Glitter on small pine cones.
November 12, 2012
0

found this helpful
I love ripped rag balls. I sometimes make them into ornaments. You can make them country fabric or all holiday.
When you are done, you can add buttons or bows made from ribbon or more ripped fabric. If you don't have styrofoam balls, you can simply make the center out of old balls of yarn you can't use.
I use cool temp glue to keep them in place, making sure that the strips cover the strip under it so nothing in the center shows through.
You can of course make them from nothing but strips, but the center you can't see is lost so I make "faux" balls. I put them on wreaths, too.
I hope this helps.
November 12, 2012
0

found this helpful
Try an Asian tree, make colorful origami ornaments.
November 12, 2012
0

found this helpful
We use to make ornaments for our "Elf Shop" and one that was a favorite was using the lid from the frozen orange juice can and taking a nail and outlining a picture in a Christmas theme, like a wreath, candle, etc. (tin-punching). We would take white ruffling and glue around the edge of the ornament, add a string for hanging and you have an inexpensive ornament with a country flair.
November 19, 2012
0

found this helpful
When those little colored beads that children use for their birthday parties break, don't throw them away...you can cut them into little pieces about four or five inches long, more or less, and then hang them on the branches, they make little candy cane shaped ornaments when you hang them on the end of a branch....
Answer

this Question

...
July 22, 2012
0

found this helpful
I am 52. When I was very young my mother and I had the most beautiful glass ornaments with a filigree design along the outside of the ornament. Over the years they have disappeared. Every year as we decorate our tree I think of these ornaments. They were very special to me.
Does anyone know where I can find true vintage glass filigree ornaments ?
Thank you.
By Mary Steger
Answers
July 23, 2012
0

found this helpful
Hello Mary - I'm round about your age and I think I know what you are talking about? One place you might begin searching is www.etsy.com in their "vintage" section. I've not seen exactly what you are talking about (and some of the things individual shops list as "vintage" are what I would classify as only a decade or so old) but there are a lot of vendors with very interesting and truly vintage &/or antique items on the etsy.com site.
(Note - I have no known affiliations with any of the vendors - I just enjoy the site.) As well, each shop vendor gives contact information so that you could contact them with specific questions or requests.
Do you remember any brand names or where your Mother (her parents, other relatives) might have obtained the ornaments? Any information you can include in requests will help the vendors help you, so be specific with your requests. Pictures might help, too, (with the diligent and honest vendors - and of course, use your best instincts in sharing detailed info) if you have such. Good Luck! :)
July 24, 2012
0

found this helpful
Etsy.com is a great idea but don't over look eBay. By putting in "vintage filigree Christmas ornaments" I found six. You can also look on your local Craigslist and keep an eye out for the thrift shops. I hope that helps. I am 57 and love them, too.
July 24, 2012
0

found this helpful
If you are interested in vintage Christmas ornaments, I have a boxful that are approximately 70 years old. They are very delicate and worn. Contact me. You can find me on facebook. Look up Deb Wulf and message me. The pic on mine is a wolf. I live in PA
July 25, 2012
0

found this helpful
Go to local Goowill Stores and second hand stores. Have seen lots of them there. And at yardsales.
Answer

this Question

...