Christmas Gift Exchange Ideas
Solutions
Share on ThriftyFunThis page contains the following solutions. Have something to add? Please share your solution!

The soon-to-be here Christmas holiday often has people wondering how to do a gift exchange. Here's a fun way that's good for parties, group gatherings, teens and adults: Have everyone bring a gift ($10 or less) and sit in a big circle holding their gift. Then, read this story out loud and every time they hear "left" they pass the gift they are holding left. Every time they hear "right" they pass the gift they are holding right. At the end of the story whatever gift they have in their hands is theirs to keep. Here's the story:
Christmas was almost here, and Mother (RIGHT) was finishing the Christmas baking.
Father (RIGHT), Sue (RIGHT), and Billy (RIGHT) returned from their last-minute Christmas errands.
"There's not much (LEFT) to be done," said Father (RIGHT) as he came into the kitchen.
"Did you leave the basket of food at church?" asked Mother (RIGHT).
"I (LEFT) it (RIGHT) where you told me to," said Father (RIGHT).
"I'm glad my shopping is done," said Billy (RIGHT). "I don't have any money (LEFT)."
The hall telephone rang, and Susan (RIGHT) (LEFT) to answer it.
She rushed back and told the family "Aunt Tillie (RIGHT) (LEFT) a package for us (RIGHT) on Grandma (RIGHT)'s porch.
I'll go over there (RIGHT) now and get it." she said as she (LEFT) in a rush.
Father (RIGHT) (LEFT) the kitchen and brought in the Christmas tree.
By the time Susan (RIGHT) returned, Mother (RIGHT), Father (RIGHT), and Billy (RIGHT) had begun trimming the tree.
The entire (RIGHT) family sang carols as they finished the decorating.
Then they (LEFT) all the presents arranged under the tree and went to bed, hoping they had selected the (RIGHT) gifts for their family.
Now I hope you have the (RIGHT) present for yourself, because that's all that's (LEFT) of our story.
Except to wish you a Merry Christmas. Isn't that (RIGHT)?
By Diane from Rochester, NY
Read More Comments
Our family usually draws names and we have a limit to spend on each person. Next year we decided to do something out of the ordinary and have a 'thrift store gift Christmas'. It will be fun to see how many more gifts you can buy for a person on your list.
Read More...
Each holiday season we join with our loved ones in sharing centuries-old traditions such as exchanging gifts, festive foods, and family get-togethers. We traditionally do this in my family by me screaming at the children to clean their rooms for a week.
Read More...
If you get together with extended family over the holidays, gift giving can get really expensive (especially if you get everyone an individual gift). To cut down on costs we have instituted a "Dirty Santa" or "Yankee Swap" gift exchange for the adults.
Read More...
Family Gift Exchanges. My brother, sister and I (and families) exchange at Christmas. We set a dollar amount per family. Every year, we know which sibling's family we will have (I have my brother one year, my sister the next and then back to my brother).
Read More...
Gather neighbors and friends and exchange gift certificates for jobs and tasks that others can do to help each other for no charge. For example: haircuts, babysitting, baking, raking, etc...
Read More...
When I was young, we each had our Christmas at our own home Christmas morning and then rushed to Nanny's house where Great Aunts and Uncles and everyone showed up for a gathering.
Read More...
Got some $10 gift exchanges to do? Hit the dollar store for ingredients for a theme basket, like same scent toiletries, hair accessories and a hairbrush for a girl, art supplies for a young artist, flavored coffees, teas, cocoa for someone who likes them. Put them all in a 50 cent gift bag and finish with a bow of your choice. By Linda
Questions
Ask a QuestionHere are the questions asked by community members. Read on to see the answers provided by the ThriftyFun community or ask a new question.
My place of employment is having a Christmas party where you buy or make a gift for about $20. We all pick numbers. We get to pick a present as our number comes up. The person next can take your gift or anyone else's, etc.
Any good ideas on a general gift? Last year I did a movie package with Blockbuster rental with popcorn and candy for a movie night. Any ideas of any kind are welcome. We have some pretty crazy people there.
Answers
November 3, 2006
0

found this helpful
Karen, I just love that kind of gift exchange, it can get wildly funny. When I was at a party and we did this, I found the most popular gift was a basket with a bottle of wine, some glasses, and some snacks. There was also a basket with spa type items that was pretty popular; but I always like to give food type items, even if the person doesn't like the food they can use it at their own holiday gathering to put out for their guests. I think a stationary basket would be good, with some note pads, envelopes, pens, and some stamps in it. I like your movie rental idea too, a big bowl with microwave popcorn, candy bars, some cans of soda pop and a dvd all wrapped in some cellophane wrap and a bow that you can buy at the dollar store would be a great gift. Have fun at your party!
By (Guest Post)
November 3, 2006
0

found this helpful
Ice cream sundae basket is fun-Buy toppings, inexpensive sundae or banana split dishes at a dollar or thrift store, ice cream scoop, chopped nuts, cherries, and add a $5 GC for an ice cream shop like baskin -robbins or a $5 gc to the grocery store to pay for the icecream. You could do this up in an empty, rinsed out ice-cream carton!
By hwalz (Guest Post)
November 3, 2006
0

found this helpful
Lottery tickets have been popular or Wal-Mart gift cards along with candy or fruit. A George Foreman small grill was also desired. A lot of ceramic serving dishes is also popular with any who entertain.
November 3, 2006
0

found this helpful
I think food items would go over good. A gift card is nice or how 'bout a prepaid phone card?
We used to do that type of gift exchange in a club I belonged to and it was the Christmas decor items that went over big; however most these days have enough Christmas decorations. I know I do!
I know Sam's Club has some nice already made up gift baskets that will be coming out soon if they aren't already. I remember seeing one that had all chocolate items!
By (Guest Post)
November 3, 2006
0

found this helpful
Get a big, honking roll of duck tape. We did that one year the guys went NUTS! It was hilarious. LOL
By Amy (Guest Post)
November 3, 2006
0

found this helpful
Kinda like the Ice cream sundae basket... Root beer float basket: Beer mugs (walmart less than $3) ice cream scoop and bottled root beer.
I etched my glasses to personalize them but I already had the materials (etching cream is expensive)
November 3, 2006
0

found this helpful
I love this game! We had a party last year and the one present that kept being 'Taken' was a bottle of Vodka with 2 shot glasses :)
a close second was cash
November 4, 2006
0

found this helpful
I have gotten 2 super gifts this way: a bound journal and a pair of coffee mugs.
By (Guest Post)
November 14, 2006
0

found this helpful
We have done this at our employee party. Buy the current TV Guide, some microwave popcorn, hot chocolate mix, etc. for one basket. Another popular one was Pamper Yourself: A basket of bath oil, bubble bath, a good CD, some candles, bath sponges, etc. Or dinner for two: Some canned dinners (or frozen or microwavable), deli bread, salad mix, candles, etc. An exercise video with some deluxe sugar free drinks, snacks, etc. Breakfast in bed included pop tarts, juice, granola bars, fancy coffee mix, scone mix, etc. We had fun with all of it!!
By monica (Guest Post)
December 10, 2008
0

found this helpful
Last year I picked up a DVD set of all the Ghostbusters movies. It was under $20 at Wal-Mart and a HUGE hit at the party.
Read More Answers
This is a page about paper themed Christmas gift swap ideas. Some families and groups like to give gifts based on a chosen theme.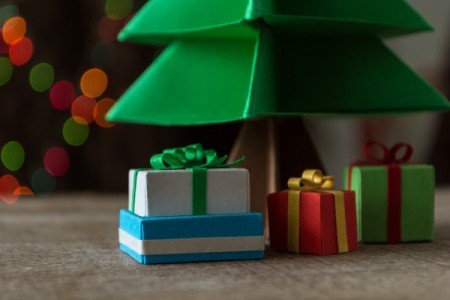 This page contains white elephant gift ideas. Christmas party fun can include buying a gag gift that you don't know who will end up with it until the end of the exchange.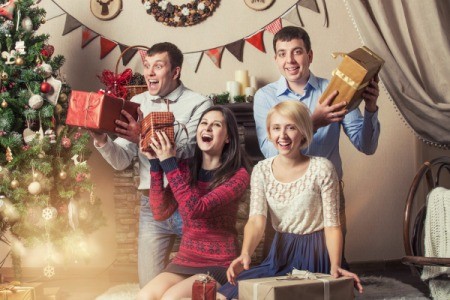 Archives
ThriftyFun is one of the longest running frugal living communities on the Internet. These are archives of older discussions.
Talk with people that you exchange gifts with this year to see if they would like to change the theme for next year's gift giving, like shopping at thrift stores, flea markets, yard sales, only, for gifts. You might be surprised!

Or set a dollar amount and see who can get the best value for the set amount of money!

Make up rules and make a game of it! There are a lot of really nice things that you find throughout the year. It's fun and will save on the hectic Christmas shopping rush next year.

By Syd

Answers:
Prepare for Next Christmas - Used Gifts Theme
Oh, I like this, I think my sister in laws might be game to try it! (03/28/2007)

By Misty
Prepare for Next Christmas - Used Gifts Theme
Our family came up with a "White Elephant" exchange. Each adult wraps something they don't need or want anymore and brings it. There are just 2 rules: no gift can be broken and no gift can be entered into the White Elephant exchange 2 years in a row. The gift can be ugly, though!

It's a good way to clean out your house, or you can shop yard sales for funny things to bring. It doesn't have to be just 1 thing - some folks have brought boxes full of things like VHS movies their kids outgrew, books they've read, etc. Sometimes you simply don't want the item anymore. No one labels the gift they bring - in fact, some care is taken to just casually place the gifts on a pile for the game to start.

After dinner, the adults sit in a large circle around the room with the gifts in the center. We play our exchange game with 2 decks of cards. One deck is dealt out until everyone in the circle has a few cards and that deck is gone. The other deck is held by the announcer - generally 1 of the teens. The announcer draws 1 card from his deck and calls it. The adult holding the card to match gives it to the announcer and then chooses 1 gift from the pile. The announcer draws a 2nd card from his deck, calls it, and again the person holding the match gives the card to the announcer and then picks a gift from the pile.

BUT HERE THE GAME CHANGES A LITTLE! That 2nd adult may go to the 1st adult and swap the gifts! If 1 of the cards you are holding is called, and you already have a gift, you decide whether to keep it or exchange it with someone else who has 1 - or you can put it back on the pile and choose a different 1. The game continues that way until the pile of gifts is gone (every adult will have 1 gift). From then on, when a card is called the adult holding the match card decides if they want to keep the gift they are holding or swap it for 1 someone else has. Lots of thought goes into those decisions, and lots of good-natured advice is given! Quite often 1 or 2 gifts will become favorites and folks will "fight" for them - swapping back and forth till the cards are gone. Sometimes a gift becomes desired because of being elegantly wrapped, sometimes because of it's size, sometimes because it makes funny noises when it is moved. Folks have been known to put loose marbles in a box with the gift, or putting a very small gift in a very large box. One year my husband brought his gift in a wrinkled old brown paper bag. People "fought" NOT to get that gift! LOL! Imagine my brother's surprise when he opened the gift he "got stuck with" to find an electric drill! My husband had received a new drill and put his old one into the White Elephant exchange. LOL!

Then, 1 by 1, each adult opens the gift they have, and the giver admits who they are while all of us oooo and ahhhh or laugh some more. In our family, we then spend some time swapping the unwrapped gifts if we choose. LOL! We all look forward to our White Elephant gift exchange every year! (10/23/2008)

By Clown
Published by ThriftyFun.
© 1997-2020 by Cumuli, Inc. All Rights Reserved.
https://www.thriftyfun.com/tf/Christmas/Gifts/Advice/Christmas-Gift-Exchange-Ideas.html