Organizing Wrapping Paper
Solutions
Share on ThriftyFunThis guide contains the following solutions. Have something to add? Please share your solution!
Of all the items in your craft area, rolls of paper are one of the most difficult to store. Because they are so long and thin it is hard to find a place where they will fit and they easily fall over, unravel, roll around, and get creased.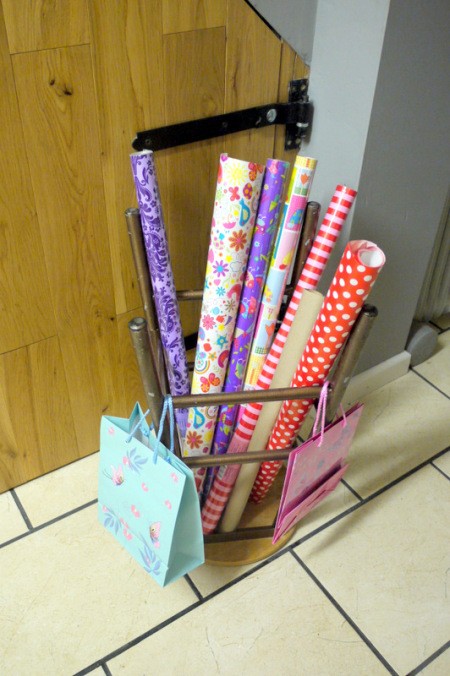 However, if you can find an unwanted bar stool and turn it upside down, you have found yourself the perfect storage solution. You can hang gift bags on the legs and use one of those bags to hold sticky tape, scissors, cards, and ribbons.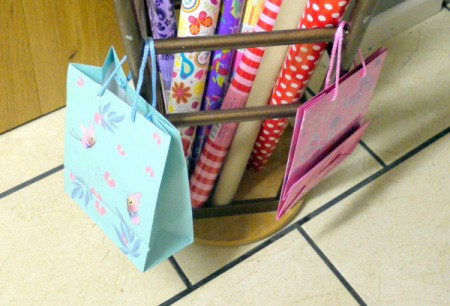 January 14, 2005
1

found this helpful
I have bought pants hangers from the thrift store and I use them to hang all my wrapping paper that I have received with gifts. By hanging up the paper, it stays it better shape and it is easier to get to it when I need it. Hang your wrapping paper or bags in different categories like Christmas, Children, Weddings etc.
By SK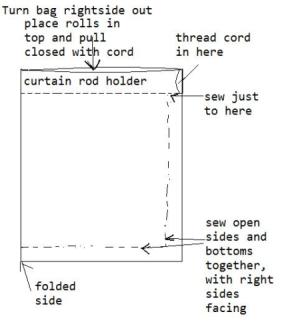 An economical way to make a bag for storing wrapping paper rolls using discarded curtains.
Approximate Time: 15 min with a sewing machine, 30 if sewing by hand
Supplies:
clean, old (or new) curtains or left over material
a sewing machine or needle and thread
the tie cord from an old hoodie
scissors
straight pins
1 large safety pin
Instructions:
Measure your wrapping paper rolls, then using the curtain rod holder as the top, measure your curtains four inches longer and two inches wider than the rolls for your stitch line.
Cut the excess curtains off the bottom, and depending on how many rolls you want to store in the same bag, cut the excess sides off the curtains leaving an extra two inches for your stitch line.
Turn your curtains right sides together, pinning them to keep them straight, and starting below the curtain rod holder (leave it open for the cord), sew the sides and bottom together one inch in from edges. If the material is the kind that unravels easily, do a second line of stitching to reinforce the edges.
Turn your bag right side out. Attach a safety pin to the end of the cord and push it all the way through the top (curtain rod holder).
Place your wrapping paper rolls into your newly sewn bag and pull the two ends of the cord snug to close it, and tie in a bow.
If you are giving these as gifts, you can buy pretty Christmas material and use this instead of curtains. But: You'll have to sew your own cord holder at the top.
By ann from Goulais River, Ontario
This year when I wrapped presents, I found a small basket big enough to hold tape, scissors, markers, gift tags and curling ribbon. I set the basket by my side and when I had used an item I put it right back in the basket.
Read More...
December 24, 2004
2

found this helpful
With boxing day sales ahead of me I know I'm going to have a lot of extra wrapping paper that needs to be stored away until next Christmas. I recently saw a gift wrap organizer that hangs in the closet and I thought it was a great idea - except that it cost almost $25.
Read More...
October 1, 2017
0

found this helpful
Wrapping paper is notorious for unrolling. Finding a way to prevent this without wrinkling the paper too much can be a bit of a task. This is a guide about keeping Christmas wrap rolls from unrolling.

September 19, 2017
0

found this helpful
Having leftover wrapping paper after the holidays is common in many households. Almost everyone needs a place for storing wrapping paper.

June 17, 2017
0

found this helpful
If you have a place to install it, a tension curtain rod works well for organizing and storing ribbon and wrapping paper. This is a guide about tension rod crafting ribbon and wrapping paper holder.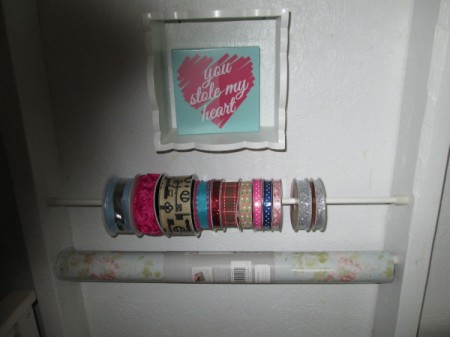 We crafters and Moms know that the months fly and we blink and another holiday is upon us. After Christmas gifts have been given, I separate tags, paper, ribbon, and other left-overs into a few categories.
Read More...
Related Content