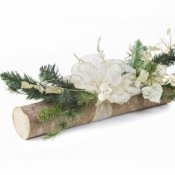 These make great Christmas gifts with just a little work.
Supplies
1 short piece of log 2 inches in diameter
3 tea lights
1 small spray of Christmas greenery
Tools needed
drill with hole saw and drill bits
1 table saw or hand saw
Cut your small log to length. With hole saw a little bigger than the diameter of your tea lights cut holes in one end of the log. This is your top. Now take the log and turn it over and run it through your table saw to take off a small slice so it will sit flat. Turn back over and put in your tealights. At the other end of your log on the top drill a hole the size of your decoration and glue in place. Add some ribbons and this card:
Light the first on Christmas Eve,
To light the way for Christ so all may see,
Light the next On Christmas Day to celebrate your joy,
That God sent us his own baby boy,
And now light the third on New Years Eve,
It will bring in good luck as the New Year leaves.
Read More

Comments