Making a Batman Costume
Solutions
Share on ThriftyFunThis guide contains the following solutions. Have something to add? Please share your solution!
This is a guide to creating your own Lego Batman body for any cosplay competition!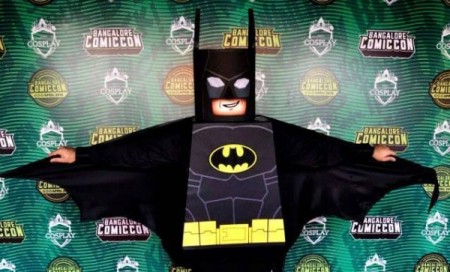 Supplies:
a big cardboard box that covers the torso
scissors
cutting blade
hot glue gun
black spray paint
black chart paper
yellow chart paper
pencils
markers
a ruler
Steps:
Find a suitable rectangular cardboard box that you think you can fit inside. Now we have to convert this rectangular cardboard box into a slightly sloped rectangular box. Before this, cut out arm holes on each side. Each arm hole should have a diameter of about 25 cm, for adults, for children it should be made smaller.
Cut out a hole at the top for the head to fit in. My head was 20cm in diameter. Again, make it smaller if it's for children.
Now, to give it slanting edges, cut out the lines in the box as shown in the pictures. Make sure to cut only from 3 sides (not the base). Then, push these flaps inwards and stick down with hot glue. This makes it super strong and durable.
Cut out a huge hole at the bottom through which you are going to slide into the box. The size depends on your waist and build.
Start the spraying! Use black spray paint and paint the box black. You can even use normal acrylic/enamel paint, but spray paints give a smoother and cleaner finish. I stuck a plain black chart paper on the front to give a better look.
Use a piece of yellow chart paper to cut out a thick yellow belt. Cut it out according to the design shown and make the borders thick and prominent using a black marker. Stick this on the base of box using hot glue.
Using a normal pencil, draw the outline for the abs for the body. Once the outline is drawn, apply gray paint and paint the abs properly. Make sure that the outline comes out symmetrical on both sides (this may take few tries).
For the Batman logo, if you are really artistic you can paint the logo. I tried a lot, but could not manage to get it symmetrical on both sides. Finally, I printed a picture of the logo on thick card paper and neatly cut it out and stuck it on the box.
This is how it finally looks! (A tutorial on how to make the head and cape will come soon.)
This is a DIY tutorial on how to make the head and cape of the Batman Lego cosplay! It's simple and cheap to make and I hope this tutorial helps. I previously uploaded a tutorial on how to make the Lego Batman body Lego Batman body. Check that out too please!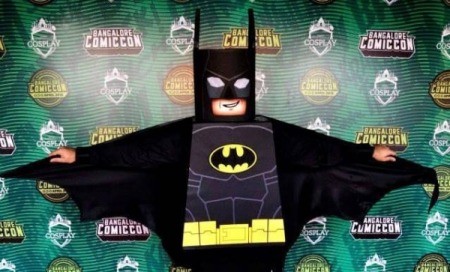 Supplies:
big cardboard tube with a diameter of 10 or 12 inches
scissors
black paint
cutting blade
hot glue gun
thick foam or thermocol sheet
pencils, markers, rulers
super thin cotton cloth or speaker fabric
grey paint
for cape-large and heavy black cloth and sewing skills
Steps:
Refer to this link to make Lego Batman body Click here.

For head - take a thick cardboard tube and select a diameter that fits on your head comfortably. It should be a little big to allow ventilation. Cut the height of the cardboard cylinder according the height of your head. Make sure you have a few free inches on top so that the Lego head is in proportion with the Lego Batman body. Make sure the cylinder tube is a little heavy so that it fits perfectly.
Mine was light so I cut a circle (of the same diameter as the tube) and stuck it on top of the cylinder using hot glue. This served two purposes - it gave a top to the cylindrical head and added a little weight so that it sits nicely on the body.
Next, cut out holes for the eyes and the nose according to the picture shown. Again you'll have to get the position of eyes and nose holes right by trial and error. I suggest starting out with small holes and seeing whether they fit your eyes and nose correctly. If they do, then make the holes bigger in proportion to your head and in the shape shown in the picture. You can cut it using a nice sharp blade and make sure the borders are smooth and not rough.
Next, add ears! Cut out two huge triangular ears from thermocol sheet or thick foam. Stick these to the sides of the head. Make sure their height is at least half the height of your head. Give them an early coat of black spray paint before you stick them onto the head.
Now paint everything! Use spray paint because gives a nice and smooth finish. Apply at least 2-3 coats for a deep black colour. Make sure to paint the top of the head also. (I ran out of spray paint mid-way and didn't have time to go and buy more so I used a thin black chart paper and stuck it all the way around the head using hot glue. Lucky for me this looked pretty good and had a smooth finish.)
At this stage your head should begin to look like the real thing. For the eyes, use a super thin cotton cloth. Speaker fabric works pretty well. Make sure it's in white. Stick it around the eye holes on the inside of the head using hot glue. Don't worry so much about vision, if the cloth is thin enough you'll easily be able to see outside.
Now the finishing touches. Take grey paint and paint the rectangular area below the eyes with grey paint. Also add grey highlights for the eyebrows and forehead as shown in the picture. This gives a nice 3D look to the head. For the nose, cut out a big triangular piece of chart paper. Fold it in half and stick the corners to the inside of the head. Make sure the front is popping out. This should give the nose a 3D appearance and make it look like the real thing.
Now for the mouth you can paint a typical Batman smirk on it. My painting skills are a little poor so I Googled a photo of a Lego Batman mouth, printed it on thick card paper and stuck it on using hot glue. (This was way better than any painting could ever be.) Also, I added 3 holes to the back of the head to aid in ventilation. This makes it more comfortable to wear.
This completes your head and I hope it looks as good as mine!
CAPE- use a huge and thick piece of black cloth. Make sure it's heavy so that it gives a nice fall to the cape. I found an old thick black curtain and cut it up the way I wanted.
Take a white pencil and draw the bat shape on the cape (as shown in the picture). This acts as an outline while cutting. Make sure it is wide enough and covers you from tip of one hand to the tip of the other. It should be long enough to reach your knees. (Yes I know this is pretty big, but big is good.)
Now cut along the lines and give it a stitch to make it look good.
I added a Velcro strip to the top of my Lego body and to the head area of the cape (using hot glue) to hold the cape in place to the body. Initially I was a little doubtful whether the Velcro would be able to take the load of the cape, but it turned out to be super super sturdy and did a super good job.
This completes the head and the cape! Along with the body it makes for a perfect Lego Batman cosplay costume! I hope you all like it!
September 8, 2011
0

found this helpful
This page has a great information about making your own batman costume. It has detailed instructions for making the mask, boots, gloves, cape and chest plate.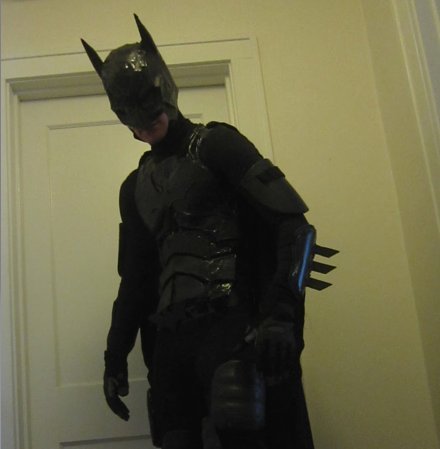 Link: http://chuck-does-art.blogspot.com/search/label/Batman%20Costume
Read More...
Related Content