Making a Ghost Costume
Solutions
Share on ThriftyFunThis page contains the following solutions. Have something to add? Please share your solution!
My sister-in-law was coming over for Halloween, but didn't have a costume. As a quick ghost costume, I had her wear black clothes, top to bottom. We then sponged white make up onto her face and used a good amount of black eyeliner and red lipstick. Finally, I draped a few layers of cheesecloth over her, including covering her face (think of how a wedding veil looks). It was so thin and gauzy, she had no problem seeing through it, and her facial features were still visible.
She was staying at my house with me to pass out candy and gave the kids a fright. If she was trick-or-treating, I probably would have had her wear white instead of black underneath the cheesecloth to make her more visible.
By Lisa from OK
Hi from Canada! Halloween is bigger than Christmas here in Quebec, Canada, and the costumes are wonderfully unique.
For example, take one three foot kid and tie a light aluminum broom handle vertically to his back. Two strings should do the job holding the handle in place. One string wrapped just below the arm pits and over the shoulders like a school bag strap, the other string tied around at waist level. Duct tape a round beach ball or strong balloon on top of the broom handle.
Now we are ready for our Ghost Sheet. Take one soon-to-be-discarded bed sheet and throw it over the ball, and tie it securely with tape or string at the throat of your ghost.
Then paint on a pumpkin face. Use your imagination but make it as colorfully vivid as possible with bright paint. When someone opens their house door, the ghost face is what they should see first. You can also use a Halloween mask taped to the round face.
Now your costume is almost ready. Cut out holes in the Sheet where your child's eyes will peek through and you have a six foot ghost with small hands at knee level holding a Candy Bag. Have Fun and Happy Halloween!
Source: It is my concept. Happy Halloween!
By Joseph Raglione from Laval West, Quebec, Canada. H7R 1M5
Sheer curtains over white or grey sweats make an ethereal and safe (see through) ghost costume. They're very inexpensive and much lighter than a sheet and no makeup is needed, although one could use a little clown white. For safety, put a few strips of reflective tape in spooky teardrop shapes in strategic spots on the chest, thighs, and back, if it's to be used for Trick-or-Treat.
The sweatshirt should be hooded, or a stocking cap could be used. Use safety pins to tack the curtain, in folds, to the sweats. After Trick-or-Treat, the sweats are back on duty!
By Doris from Harrisburg PA
For a last minute costume idea, dont forget the good old plain white sheet ghost costume. Cut 2 holes for the eyes and gather the neckline with a couple of safety pins.

By Kim from Howell, NJ
Links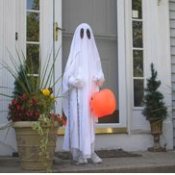 Here are some simply instructions for a "classic" children's ghost costume.
Advertisement