If you're arranging a wedding, you will find plenty of details to arrange and choose upon, from picking your wedding dress to setting a date and booking a photographer. Even so, you also have to aim a few of your focus in your wedding party, particularly your bridesmaids. Amongst your bridal shower, bachelorette party and your big day, your girls will be helping you out a lot. You'll need to decide on their dresses, including the fashion, length and especially the color with the dresses.
Pick a color that will not merely look great around the dresses but in addition scattered all through your reception. Your wedding colors are reflected as part of your bridesmaids' dresses, the table settings and the flower arrangements.
Take into consideration the colors that go very best using the season when you are going to be possessing your wedding. Springtime weddings contact for light pastels, summer weddings search fantastic accented with vivid, bold colors, winter weddings glisten with ice blue and silver and autumn weddings reflect the colors of changing leaves.
Determine what time of day you're going to be holding your wedding. If you're having a wedding throughout the afternoon, you will want a lighter colored dress. Evening occasions call for darker dresses.
Think about how formal an occasion you are going to be possessing, this will likely help establish what shade of color to go with. Casual weddings can get away with just about any color, but ultra-formal occasions might contact for dark brown or black dresses.
Take your bridesmaids' coloring and form into consideration. Bold colors don't flatter heavier women, and dark colors might make females with pale skin search washed out. If your bridesmaids have very various coloring, think about deciding on diverse shades in the identical color for the bridesmaids' dresses.
Ask your bridesmaids what colors they choose, you don't necessarily should take their suggestions, but their guidance could allow you to narrow down your color options. Also, should you do end up going having a color that your bridesmaids recommend, you understand they'll be just as joyful as you may be to order the wedding dresses. The best strategy to see what colors will (and will not) appear great in your wedding party is to ask absolutely everyone to head to a bridal shop and attempt on a variety of dresses.
By joannaliu from Beijing, China
October 17, 2011
0

found this helpful
I have seen weddings where the bridesmaids pick their own style of dress, in a givine color. My thought is choose a color that will flatter the women in the bridal party and to heck with the other considerations. A person can get too carried away takingt too many things into consideration. One other thing that should be considered for the women's dresses is cost, the attendants income should be considered.
Can you use brown as a bridesmaid dress in March? My wedding was originally planned for October has moved to March. I liked my colors so much, I kinda wanted to keep them. So the idea was to use a brown dress with a turquoise sash, but that doesn't seem very springy. I need advice!
Emily from Nashville, TN
By guest (Guest Post)
December 25, 2008
0

found this helpful
I think brown with turquoise sounds really nice. Just remember you don't have to stick to tradition. It is your big day and if that is what you like go for it. I'm sure it will be beautiful!
By guest (Guest Post)
January 23, 2009
0

found this helpful
One of my girlfriends just did the colour scheme and it looked incredible. I was also just in one with chocolate brown dresses, floor length, with ivory sash, those were great too. Also have several dresses if your needing any.
All the best.
By guest (Guest Post)
February 10, 2009
0

found this helpful
I'm having my wedding March 28 and that's the color I'm going to use. (attached is a picture of my bridesmaid dresses but it's not pink it's Brown) I did decide to change the belt to a light pink to give it that spring look! Blue also looks beautiful!
Ps. As long as you are happy, who cares what others think, you're the one who has to look at the pictures for the rest of your life! :)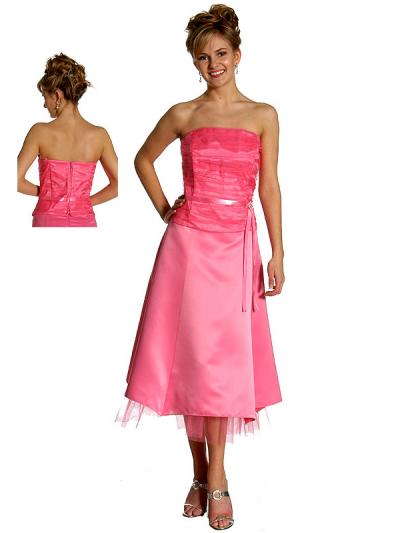 May 27, 2009
0

found this helpful
I think it is fine, just use bright bouquets of flowers, maybe even some in their hair? It is your day and there is nothing that dictates you have to use certain colors for certain months.
Read More Answers
April 17, 2012
0

found this helpful
I am trying to decide on color combinations for my May 2013 wedding. I'm going for a classic, elegant feel to the whole affair, but would like to incorporate a spring color that would add a bit of pop. I would appreciate any suggestions.
By LMC
April 17, 2012
0

found this helpful
You have to pick a color that you like, not what other people suggest.
April 18, 2012
0

found this helpful
Either dress your bridesmaids in a rainbow of pastels all the same or similar styles or select a color and dress them in shades of the same spring color. Or use a rainbow of spring flowers and keep everything else simple. Select a color or colors they will look attractive in and stay away from ruffles, frills, etc. Simple, simple, plain styles and let the color add pop. Spring colors are yellow, green, peach, but these do not have to washed out.
April 19, 2012
0

found this helpful
Yellow and brown would be nice for May.
January 4, 2012
0

found this helpful
How can I make these colors work for my wedding, purple, blue, orange, and cream?
By Cynthia
January 10, 2012
0

found this helpful
One colour for the bridesmaids dresses, cream for the flowers and linens, and the other colours for the ribbons and table confetti.
Sounds like a Mardi Gras or college colours wedding-is that your theme?
Bridesmaids are always grateful when the dresses are a reusable colour and style, so go with the blue or a sherbet shade of the orange (if they all look good in sherbet orange) for the dresses. Purple is a hard colour for some women to wear but looks great as a ribbon and would look pretty with the blue, and the all colours would be great together scattered across the tables as confetti.
Good luck, and best wishes on the wedding.
January 10, 2012
0

found this helpful
I agree with making one color lighter. I can see a light purple, medium purple, and blue flower bouquet with sherbet orange poppies as an accent. Then light purple dresses with medium purple sash/belt and orange shoe pins or hair bobbles. Or sherbet orange dresses with purple bobbles/shoes.
I think the key is definitely using a couple of muted colors. Colors that are too bright will feel like a pep rally (unless that's what you're going for).
January 16, 2012
0

found this helpful
Can you find a fabric that incorporates all these colors? Then the bridesmaids' dresses, etc., could be made from it. You could then use the solid colors for tablecloths, napkins, etc.