Any centerpiece ideas for a reception with candles for cheap. I don't want to use flowers (maybe a few petals) but make it look elegant and expensive. Thank you.

Kayla
September 27, 2007
0

found this helpful
Spray glitter in white, gold, silver, or any color that matches the wedding party?
By guest (Guest Post)
September 28, 2007
0

found this helpful
Go to Walmart (or similar low cost store) & buy hurricane candle lamps & candles. You can also buy round mirrors to place underneath & place items in your wedding color or in a theme (example, if a Fall wedding, place pine cones, etc.) around the base of the lamps.
September 28, 2007
0

found this helpful
Rental stores have wonderful mirrors and glass to rent also ck into the table runners in your wedding colors.they add color and really make your center pc really show.very elegant!!
By guest (Guest Post)
October 1, 2007
0

found this helpful
I put my kids wedding invitaion in an oval shape in the
center of the candle with straight pins. Around the
wedding invitation, I put ribbon the color of the girls
dresses around the oval with a glue gun. The color was
maroon and the invitation also had a bit of maroon in it.
I put small flowers all over, many as you like.
On the bottom of the candle I set it in a candle holder.
I put larger flowers on the candle holder.
I placed two small candle besides the large one.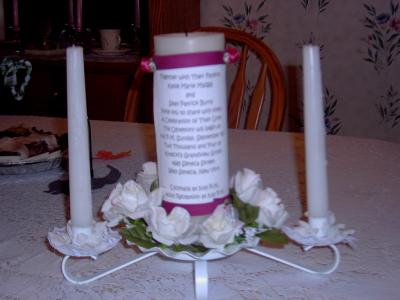 By guest (Guest Post)
October 1, 2007
0

found this helpful
I can relate so what I did was buy tea lights and went to the thrift store and bought up all the little tea light holders I could and use spray adhesive and apply glitter easy and buy one big candle for the center. P.S. The dollar store now carries rose pedals you get fifty for a dollar.
By guest (Guest Post)
October 10, 2007
0

found this helpful
Vases are cheap and ribbon is cheap. Buy vases at dollar store place 2 to every 10 ft banquet table with 3 or 4 carnations wedding colors. Ribbon with bow. You can buy carnations in 12 dozen maybe 2 bux a dozen or 3. Call the market or if you have a friend who has business you might be able to buy wholesale. Sprinkle glitter on tables and small candles from dollar store. 8ft table cloths, get at the dollar store. People think buy cheap at Sams wholesale club or Gordon food service but you can do better on your own with Big Lots and Dollar stores. Haven't you noticed Walmart prices are now higher than Krogers and Meijers?
By guest (Guest Post)
October 10, 2007
0

found this helpful
For my wedding we are going to use floating flower candles in and floating candle bowl. The place we were looking was at orientaltrading.com but I'm not sure you have time to order and receive them. You could look and call them to find out. I think they are pretty cheap (but then again I live in Alaska and everything here is expensive) but time might be of essence. If you did the floating candles and some fake flower petals around the tables I think that would look great. (We're doing tropical flower candles and sea shells on our tables) Good luck!
By guest (Guest Post)
October 11, 2007
0

found this helpful
Two ideas :
1) Three different sized candles with glass beads or stones surrounding the bases and one to three orchids in whatever colors match your wedding theme laid beautifully on the stones/beads. Even the least expensive candles would be elevated by the orchids. The beads can be purchased for a very reasonable price -even at target. And you won't need many orchids to create quite an impression. At the same time they are very resilient and will not need a water source to remain beautiful throughout your reception. Unlike so many flowers that would wilt too quickly!
2) Cover a large vase/hurricane in a beautiful and slightly sheer fabric that compliments your wedding decor. Add the candle and your tables will be inviting and beautiful! This could also be done with a homemade wire frame covered in the same fabric. You can go all out and add feather accents, beaded trim; whatever you like and can afford. Just be sure to keep safety in mind when creating the look you want!
I do HIGHLY recommending doing mock-ups of any centerpiece your are considering before investing in the full amount that you need. It just help you make sure that the specific materials your are choosing really give you the look you are hoping for. Little details can make a big difference! : )
Have a beautiful day!
December 14, 2007
0

found this helpful
You can find some good ideas for wedding table centrepieces and decoration here:
http://www.chea … decorations.html
There's ideas on how to use candles, flowers, natural objects and paper.
January 17, 2008
0

found this helpful
dollar tree has some really nice wide low vases add some irridescent stones from there and a off white candle simple and elegant!!!!even tie a tulle ribbon around it!!! or floating candles or some grouped!!!
January 17, 2008
0

found this helpful
How about some small pictures of you together with flower petels scattered around them?
February 8, 2008
0

found this helpful
One thing we are doing for our wedding is you get white (this is very important that they are white) wide pillar candles, which I think you can get at the dollar store or at least cheaply at wal-mart. Find a picture of the couple or a nice design you like. Take white tissue paper and tape it to a regular piece of paper and print the picture off on the tissue paper. Take spray adhesive and cover the candle with the adhesive. Trim the picture on the tissue paper to where there is not a lot of extra tissue around the picture. Place the picture onto the candle where you have sprayed the adhesive. Smooth it out and take a hair dryer and dry the candle until the tissue is completely dry and adhered to the candle, wipe the extra glue off and there ya go. It may sound complicated but it is EXTREMELY easy and cost effective. Just be careful not to heat the candle too much as of course it will melt. We have made these candles time and time again for presents and such. All you would have to do to finish the c.p. is sprinkle stones or glitter or petals around the base. As you burn the candle the picture will glow very elegantly.
I want to put a real fish in a bowl with a floating candle. Would it be OK?
By Merita E.
September 14, 2013
1

found this helpful
The fish will likely survive, but most of the guests will not want to take home a goldfish and care for it. This is not a good idea to use live animals for entertainment and decorations. It is likely a death sentence for these animals - either they will die right away (and who wants a bowl with a dead fish and a candle in it as a centerpiece) or they will end up dead because no one wants to care for these fish. There are many lovely things in the world to use for decorations that won't involve dead fish.
May 6, 2016
1

found this helpful
I agree with Louise B. The fish is a living creature. Are you just going to toss it after the wedding? Not nice.
September 13, 2013
0

found this helpful
Candles are just paraffin so my guess is yes. However, I would test it with a glass or bowl of water and a fish with a candle on top, just to be sure. This will create a more stress free wedding. If you end up doing this, take a shot and share?
September 13, 2013
0

found this helpful
I've been to a wedding where they did this. It works if you put the fish in pretty close to the time of the reception. BUT several fish died and I don't really believe is using live creatures for entertainment and then death. The bride had all the guests take the fish bowl w/fish if they wanted. IT does work...
September 13, 2013
0

found this helpful
It might overheat the water and stress the fish.
September 13, 2013
0

found this helpful
Find another centerpiece. There is the problem of carrying infection such as salmonella. There is the threat to the fish by way of the what candle is made of, the heat. It isn't fair to the fish for what you think is novel.
May 6, 2016
0

found this helpful
I think that is an awesome idea and so unique...