Well, to start off with, I am getting married. This is my (and his) second time. I have been divorced for 17 years, so I wanted it to be special without spending much. I looked over numerous types of invitations and they were very costly, even to buy software and make your own. So, I thought I would not only make my own, but also make my own paper.
I started by finding different ways to make paper, I have never done so. I looked at many internet ideas and than came up with my own. I used mostly junk mail to make the paper pulp. I then got this idea from an online paper supplier to make "plantable" paper. This is where you add flower seeds to the mix.
The end product, through trial and error, was just what I wanted. I was able to create my own design the way I wanted, and my guests will be able to plant the invitation in the Spring and grow some special flowers.
By Katryn from Chester, VT
September 4, 2010
0

found this helpful
Excellent and totally unique idea. I like that your guests will have a living keepsake of your special day.
Read More Comments
May 23, 2005
0

found this helpful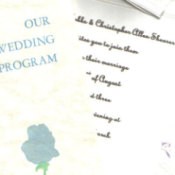 I have submitted several articles with tips on projects to save money on a wedding. Sure, it's more convenient to hire things done for your wedding, but the money saved can be applied towards a nice honeymoon or the living expenses that come after this day is over.
One way we saved money was to print our own invitations as well as the wedding programs. We purchased card stock paper from Walmart for the programs, and the invitation paper I just happened to come up on at a yard sale. They were even textured with cala lillies. I used a hole punch at the top and tied on a tiny white satin bow. The only drawback I would say,is the ink used,but we were able to do both projects for probably half the price of professionally printed invitations alone.
It gives you a real sense of pride knowing that you did-it-yourself!
By Sharon from KY
June 6, 2008
0

found this helpful
I used a Gartner Studios kit from Michael's that had a handmade paper base embedded with dried flowers (I had a fall wedding theme) topped with a vellum layer, held together with a ribbon. I changed out the ivory ribbon that came with the set for red, and used monogram stickers from Dollar Tree for envelope seals. The kit also came with RSVP cards and envelopes, but I printed the cards instead as postcards! The front had a fall tree clip art with our names and wedding date, and the back had RSVP info and a stamp to encourage its return. People loved it and wanted to know where I ordered them from!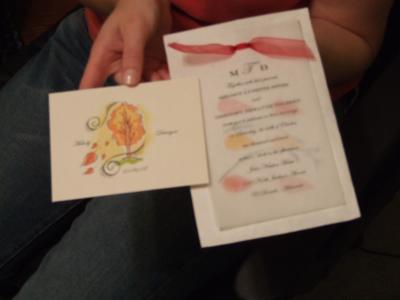 Read More Comments
My fiance and I are trying to find ways to cut down the cost of our wedding and are thinking about printing our own invitations. I was wondering if anyone has done this for their own wedding and how the invitations turned out? I don't really want to spend the money on the do-it-yourself kit if it's not worth it.
By guest (Guest Post)
August 12, 2005
0

found this helpful
I would consider trying Quality Quick Print, they have all sorts of samples straight from the vendors, and make them way cheaper than what you would buy online. I saved $200.00 on cheapo invitations.
By guest (Guest Post)
September 15, 2007
0

found this helpful
I have been married for 24 years and I want to use my first wedding day picture on my invitation. Can I do this on a blank invitation? I saw some at Walmart, a pack of 50 for $15. Would they be okay?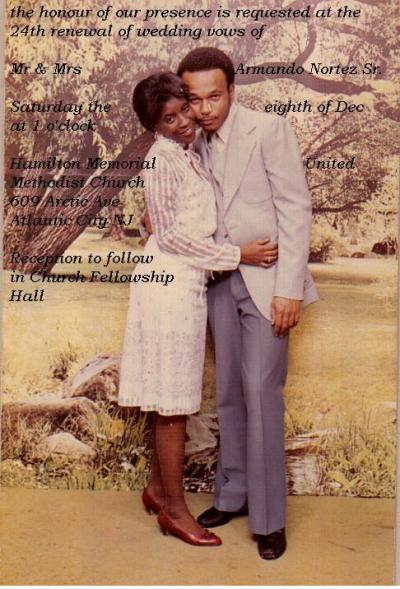 By guest (Guest Post)
September 15, 2007
0

found this helpful
I am currently planning my wedding. I bought my thank you cards and wedding invitations from Walmart. On the box is a website that shows you how to print them and it comes with test sheets so you don't mess up your invitations.
GOOD LUCK!
March 11, 2008
0

found this helpful
I found a site where you can print off their desigsn on your home printer for free! Just amend the wording and print. You need a color printer and a Microsoft Word.
http://www.wedd tation-ideas.com
Some of them are blank and some of them have suggestions for jazzing them up.
They'll save you a fortune though!
June 6, 2008
0

found this helpful
I printed both my wedding invitations as well as my programs, and bought a kit for each. I recommend this option because you can tweak the wording and font to your liking and personalize with ribbon, colored paper, etc. You could save even more by tracking down/buying the materials yourself and foregoing a kit, but I was only engaged for about 2.5 months and I didn't have time for all that!
Read More Answers
How do you make single gatefold cards for wedding invitations?
August 3, 2007
0

found this helpful
http://www.crea ttern/200503.php
I found this pattern for you there are lots of weeding stamps and stickers that I found at a dollar tree that you could use on the cover. Also wedding confetti and keepsakes you'll be amazed.
August 27, 2007
0

found this helpful
More ideas for making wedding invitations: http://www.chea invitations.html
Get out your ribbon, glitter pens and coloured pencils because making your own wedding invitations is easy!
Good luck with your gatefolds.
March 22, 2013
0

found this helpful
I try to keep things simple. I create a 4"x6" flat card invitation; get wedding coordinating color 12"x12" card stock or scrap book paper, cut it in half & then each half into 8" long strip; measure in from each end 4" & fold (or center the flat card on the 6"x8" strip and fold in the sides) so they meet in the middle to create your gate.
Once you have your folds glue or double stick tape flat card into position in your folder; wrap ribbon around card and tie in front (ribbon can be secured in back w/dbl stick tape or glue). Alternative closures: Coordinating sticker; punch hole in 1/4" from edge of paper in the center, insert ribbon & tie; or cut folder paper 1/2" to 1" longer (9"-10") so they overlap and use self-adhesive velcro dots. Any other imbellishments is up to you.
Hope I didn't forget anything.