I made my daughter's wedding cake. It was a three-tier cake with sugar paste flowers that took three days of standing, baking, and decorating. When my son got married, I got smart. A grocery store bakery made three round cakes iced in white icing for $40.00. I took artificial flowers and cascaded them down the cake with a circle of small blossoms around the Bride and Groom topper. Cheap and beautiful!
By Susan from Collierville, TN
August 10, 2005
0

found this helpful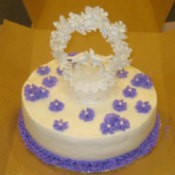 I made a cake for a good friend at work for her wedding. I wanted to make a nice cake, simple, cute and most important fast. I bought a wedding cake topper. I then made a 10 inch round white cake and made almond icing to frost the cake. Then with tip 2D, I made the flowers and the bottom border. Finally I added the dove cake topper. This cake was delicious and beautiful.
By Maria
I am interested in finding a supplier for wedding cake topper plastic bases (the thing the bride and groom stand on) and background plastic hearts at a cheap price. Can anyone here recommend a site that I could visit for these items, or even a retail store close-by that carries them?
Thanks!
Sharon from Trussville, AL
Answers
January 2, 2007
0

found this helpful
Any party supply place has them inexpensively and also Walmart has a section with all wedding items. Good luck!
By Doggy (Guest Post)
January 2, 2007
0

found this helpful
What about styrofoam rounds and spackle, thinned with water (to frosting consistency)and tinted (?)
January 2, 2007
0

found this helpful
Price is pretty subjective--what is cheap to one can be expensive to another. I used to do cakes, and often people were shocked at the extra "charge" for the toppers or specific material they wanted on their cakes. I let them price some items they wanted, and then they realized that I did not mark that stuff up. Things like fountains and bridges could be really expensive to buy and often came back broken, so I had them pay deposits and sign leases that if they broke them, there would be additional charges.
I always bought my supplies from the Wilton Cake Company, since they had the best and most diversified items. Usually people who want a traditional cake topper, want to keep it and don't complain about the price too much.
By Lil (Guest Post)
January 2, 2007
0

found this helpful
Michael's Craft store and A C Moore have great deals.
Answer

this Question

...