December 25, 2009
0

found this helpful
For Christmas one year, my mom and I took 2 large coffee tins (they were tin at the time), painted them, decorated them, and filled them with hair accessories (barettes, pony tail elastics, etc) for my 2 nieces for Christmas presents. They loved them! Perhaps you could decorate them and use them to "wrap" gifts in? Because they contained coffee, the plastic would have to be food-grade so you could even use them for holding cookies, either for yourself or to give away. My husband and I use mason jars to hold our spare change so that might be an idea too.
Hope this helps!
January 1, 2010
1

found this helpful
First off, when you say "throw out" we all hope you mean recycle? You can keep old paint in them, fill the smaller ones with the handles with cat litter and take them walking with you for exercise, or keep them in your garage for an oil spill.
Keep tools, paint brushes, hardware and more in them in the garage or shop.
When you come home with 5 or 10 lbs of flour, oatmeal, sugar, or beans/rice/pasta, keep them rodent free in your pantry, writing on the lids what is inside.
Wrap them in fabric or paint them and fill with rocks or cat litter for weight, and use them for shelf supports. Decorate and use for banks.
One of the red ones can be used for left over corn and put in the freezer. The next time you have beans, drop them in and put them back in the freezer. When you have enough leftover veggies to fill the top, you have enough for a wonderful soup.
If you have to move, keep your small breakables inside filled with news paper or unbuttered popcorn. I hope this helped but if you really thing about it, it only scratches the surface. PBP
February 12, 2019
0

found this helpful
Keep them rodent free in your pantry?? You say that like its normal to have rodents in your pantry!!
January 1, 2010
2

found this helpful
The only problem I see with using them for flour and sugar is that even after I washed one of the blue containers, it still smells like coffee.
May 19, 2018
0

found this helpful
I will try baking soda to remove coffee odor.
Will the canister keep sugar air tight?
January 5, 2010
0

found this helpful
During this cold, icy, snowy time why not fill with ice melt/salt and use it to pour when you need to go out to your car or to get mail. That way you will not slip and fall on the ice. Also, keep one filled in the car so if you park somewhere icy you can sprinkle some for yourself.
January 1, 2011
0

found this helpful
I use one to store coffee filters in, it's the right size, doesn't squash the filters and keeps them clean. I use them to store some office supplies, cookies, some craft supplies and seeds.
I too am having a hard time re-using them, but trying real hard. I like the idea of keeping a container of salt in the car while traveling. Good luck.
November 9, 2011
0

found this helpful
Hello,
Folgers website has some free Christmas printable's for the plastic cans!
www.folgers.com/.../index.aspx
These would be great for gifting cookies :)
have a great day,
Beverly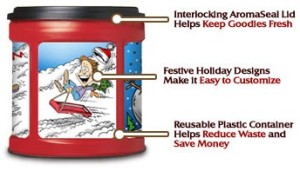 May 30, 2016
0

found this helpful
Penny's, nickels, dimes, quarter's!