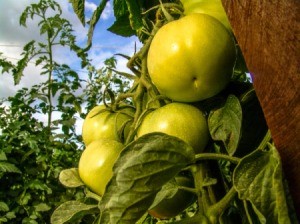 I am a first-time tomato planter growing heirloom tomatoes and am wondering what is happening to the tips of the leaves. I think the leaves are curling from too much moisture, but I can't figure out why some of the leaf tips are dark green, very dry, and brittle? Thoughts?
By Ali from Los Angeles, CA

Answers:
Curling Tomato Leaves
Spray it with teaspoon of liquid soap in a spray bottle full of water, 2 or more times each week (it will hold about a quart of water). Good luck. (03/10/2010)

Curling Tomato Leaves
vegetablemdonline.ppath.cornell.edu
Go to this web site and look for your symptoms. I have some of the same including the brown stems.

Ed (03/28/2010)

By Ed Carlson