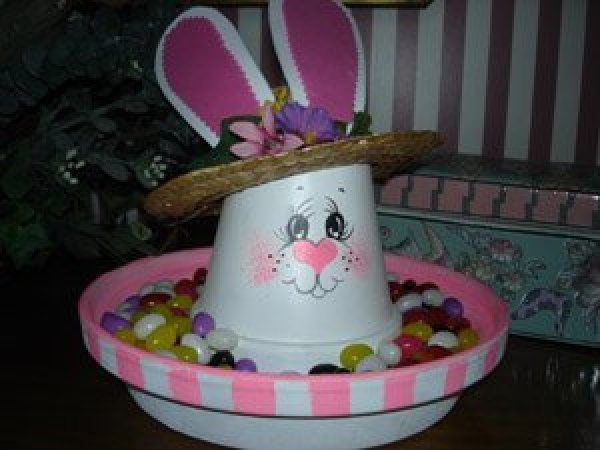 Make a cute bunny candy dish for Easter. Spray paint a terracotta clay pot and saucer white (any size you desire is acceptable). Sponge paint the interior of the saucer with a spring color if you desire (I suggest petunia pink, daffodil yellow, grass green, lovely lavender, or a light turquoise).
Paint a bunny face. (Use black Sharpie for easy control and precision when drawing the face.) Paint a heart shaped nose and lightly dab a bit of paint/blush on his cheeks using your middle finger.
Decorate a straw hat with leftover artificial blossoms, eggs, or what have you. Curl 2 ears from foam and attach with glue. Place hat jauntily on bunny head, fill with your favorite candy (purchased on sale and with a coupon of course!) and enjoy.
Make these using miniature pots for teacher gifts. They are adorable!
By Diana from Prospect, KY
Comments
Read More

Comments