Approximate Time: 30 minutes or Less
Supplies:
Any type fabrics I prefer Cottons
Batting
sewing machine
scissors
pattern from clip art of coloring book pages
Instructions: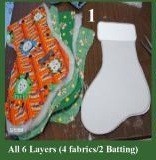 Make easy padded stockings with this simple pattern of fabric layers which include any type fabric cut in amounts of 4 and 2 layers of batting. I have made this size which is 9 inches long 4 inches wide and 7 inches from heal to toe end. Print out a stocking pattern from clip art or use one from a color book page as your pattern.
Cut 4 pieces of fabric in the stocking shape. Two sides of the fabric will be cut out facing you right sides out and the other two (used for your inside lining) will be cut with right sides facing inward.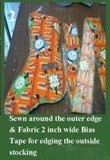 Then cut 2 of the batting.
Now lay down the pieces in order as layers like in the photo which will be fabric to the outside facing then batting then 2 sides facing each other inside then batting again then the last fabric facing out. Then use your serger or just machine stitch around the whole outside edge of your stocking (but not the top part which is your opening).
Then use your fabric scraps as your bias tape to put on the top open around the rim and then the outside edge of your stocking to give it a finish look


(a 2 inch wide piece will work fine just by turning that long scrap piece in on each side and sandwich the stockings edge in between the fabric bias piece and stitch it all the way around. When you come to the end go up about 4 to 5 inches and loop it back down into the corner and stitch it off.
You then have a padded fabric stocking with the inside lining as pretty as the outside. I did this one in 2 prints which consist of a character print (Thomas the train) and a candy cane Christmas print. You can make your paper pattern any size you like big or small and follow these directions for a beautiful stocking.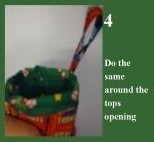 This size given is just perfect to fill with a few treats and little gifts and give as the gift it self. This size is also perfect to use for your pet's stockings or to give to pre-school kids as a little gift.
Use prints that you know the receiver will like best; ex. horses, frogs, etc. It does not have to be Christmas prints. Or mix and match as I did here with a popular kids theme in mind. Happy Holidays!
By Julie