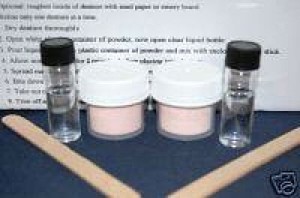 Product: Perma Soft II Denture Relining Kit
Cost: $18
If you are like most of us and simply can't or don't choose to pay dentists to reline your dentures here is the answer for you! I had searched everywhere and hounded everyone I knew who might be able to help and finally found the answer on Ebay. Perma Soft II is a two part product, a pink powder and a clear liquid that you mix together, wait one minute and spread in your dentures. You then put your dentures into your mouth and bite normally, hold that bite for three minutes.
The product will feel warm just like the solution the dentists use. After the three minutes you take the denture out and trim the excess off. It stays soft but firm and can be trimmed and sanded to bit perfect. You do one denture at a time and it takes about 25 minutes for each. It comes with very clear directions.
For the first day or two there is a slight taste, not a bad taste but it is there, don't worry it will fade away. My gums had shrunk so much I couldn't eat with my dentures before. Now I am eating almost everything. I am so pleased with the product and for only $18.
By Ann Winberg