Felt Stocking
A Christmas favorite to remind you of your childhood - a brightly colored, festive stocking that your kids are sure to love as much as you did.
Materials and Equipment:
a large plastic bag or several sheets of newspaper
a large piece of paper, about 12 x 18 inches for a mid-size stocking
two pieces of red felt, about 12 x 18 inches for a mid-size stocking (green or white felt works well too)
several smaller pieces of felt in various colors
decorative elements such as glitter, sequins, fabric scraps, edging, etc.
embroidery floss and needle or fabric pen
a lid from a used container (such as yogurt)
fabric glue or craft glue
a glue spreader or Q-tip
paper scissors
fabric scissors or pinking shears
a pencil
an eraser
pins (optional)
Instructions:
Before starting, clear the table and cover it with newspaper or a large garbage bag to avoid getting glue on the table.
Using the photograph as a guide, sketch the outline of a stocking onto the large piece of paper. When finished, cut along the outline with scissors to create a template for your felt stocking. Transfer the template to the red felt and cut out the shape of a stocking using fabric shears or pinking sheers. You can pin the template to the felt if you like. Repeat for the second sheet of red felt. Also cut out a thin rectangle of red felt, a few inches long and an inch wide (this will become the stocking hanger later). If kids are doing this craft (and it's great one for most young children), an adult should create the template and cut the stockings out. Kids can then decorate the stockings as described below.
Pour a puddle of craft or fabric glue onto the plastic container lid and use the glue spreader or Q-tip to spread glue all along the perimeter of one stocking-shaped cut-out. Be careful not to glue the top closed! Take the thin rectangle of fabric and, forming a loop, place it against the top left-hand corner of the stocking. This will form the stocking hanger. Add a dab of glue between the layers of the loop to secure it. Place the other stocking cut-out on top of the first one and press down firmly around the edges. Add more glue if it is not sticking properly. Note: You can sew the stocking together for a more finished look, but it will take longer. I myself enjoy the "homemade" look of the stocking and find glue works just fine.
Using the smaller pieces of felt, cut out Christmas shapes such as a snowman, holly and berries, or a star - be creative! Glue them to the front of the stocking. Add a top cuff to your stocking as well if you like. Decorate with glitter, sequins, or whatever you have on hand. Allow to dry completely.
Write the name of the recipient on the top of the stocking with a fabric marker or stitch it with embroidery floss.
Fill with Christmas treasures and hang by the chimney with care!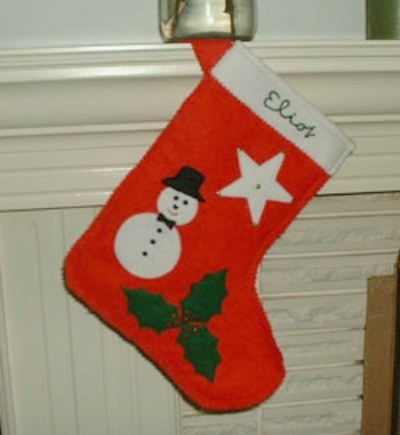 Add your voice! Click below to comment. ThriftyFun is powered by your wisdom!
Add your voice! Click below to comment. ThriftyFun is powered by your wisdom!
Related Content