October 23, 2006
0

found this helpful
Tawnya, Congratulations! You could take strings of white christmas tree lights and wrap nylon netting or tulle(JoAnn Fabrics, etc) around the lights, tying them up with ribbon. I'm attaching a picture of the lights in netting which we used for a school graduation.It looks better in person but at least you have an idea.
As for snowflakes, I've gotten lots of snowflakes found in the christmas decoration section. Once the store's have sales, load up. You could also take cereal boxes, cut them in the shape of a snowflake, rub glue all over and dip in glitter. Punch a hole in before gluing, and then they could get hung from the ceiling or somewhere and even twirl around. With the glitter, the snowflake doesn't have to be cut extra fancy.
Have you tried going on freecycle.org? Maybe someone in your area has some snowflakes you could borrow! Good luck!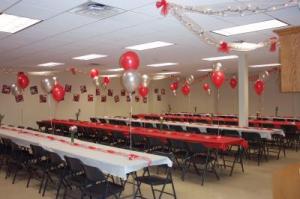 October 24, 2006
0

found this helpful
Oh, definitely silver glittered snowflakes! I bought a bunch of them in various sizes at the party store to hang in my trees during the Christmas holidays. They are so pretty and would go great with your color theme.
By guest (Guest Post)
October 25, 2006
0

found this helpful
Go to Oriental Trading Company. They sell in bulk, have tons of selection and are pretty inexpensive!
November 1, 2006
0

found this helpful
I gave ornaments for favors at my winter wedding. They were easy to make and thrifty too! I put a photo of us on card stock and printed on it our wedding date along with a fitting bible verse, cut each out with one of those fancy scissors, and tided it on the ornament with ribbon. The ornaments can be bought in six or eight packs at Gaden Ridge or Ole Time Pottery. I set a Christmas Tree up in the hall and asked my guests to each take one. Every year when they go to decorate their tree they think of us and our wedding.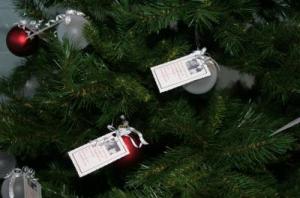 September 26, 2007
0

found this helpful
Try these beautiful paper snowflakes. We sprayed them with white glitter, made huge mobiles, hung them from balloons, etc. and the room looked like a winter wonderland. At $15 for 50 9" snowflakes...you can't beat the price:
http://cgi.ebay … Z1QQcmdZViewItem
By guest (Guest Post)
September 5, 2008
0

found this helpful
I thought these snowflake goodie bags were so cute! they're from: http://sophiesf … 2x9_patterns.htm