Vi Johnson
Silver Post Medal for All Time! 288 Posts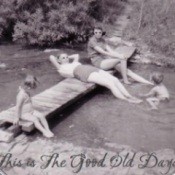 You have all heard about "the good old days". Well, they were. We never have had enough money to throw away (still don't, LOL). We traveled once every year or two to see family. The kids were small, and we didn't have money to eat at restaurants. So we'd just stop at a market or gas station and buy a loaf of bread, lunch meat, and maybe if we were lucky, a little cheese. No sodas, as we also carried a thermos of coffee and a jug of water.
Years later, we did go for car rides; just for fun. And once we went from San Fernando to Bakersfield, CA just riding (gas was 25 cents a gallon). We did stop to get a hamburger and shared a shake before going back home. Now that was a treat. Today people eat out so much it is a treat for them to eat a home cooked meal.
Yes, everyone is so busy making money these days, but where is it all going? Bills, payments, Ipods, fancy cell phones, etc. I know you're busy, but take a short ride to a park, beach, mountains, and walk if you can. Leave your electronics at home; all of them. Buy a loaf of bread, lunch meat, and cheese, but no mayo or dressing. Do not take sandwiches from home. No fuss.
Take a book to read. Sit on a rock, bench or the grass and just be quite for awhile, at least two hours. It will take some getting used to, all that peace, quiet and nature.
A Challenge; look for something to do that doesn't cost money.
That was the "good old days", even if we didn't know it.
By Vi Johnson from Moorpark, CA
Comments
Read More

Comments