By guest (Guest Post)
April 29, 2008
0

found this helpful
That has worked well for me for years, too. I have a large size cactus with beautiful huge "fluffy" flute shaped flowers that everyone raves about. Coffee is the secret.
By guest (Guest Post)
April 30, 2008
0

found this helpful
Thanks for this tip. I have several in different colors and they bloom beautifully once a year. Perhaps by using your tip I can get another bloom out of them! This also worked really well in a terrarium we had at work. It made the asparagus fern grow up out of the terrarium! Go coffee!
May 2, 2008
0

found this helpful
Thanks for the tip, I am going to try it. I have a Christmas Cactus that was my moms. She always was able to make it bloom. But in the last 9 years since she's been gone, it has only bloomed once and then only had about 3 blossoms. The greenery is very healty but thin. Hope the coffee gives it the boost it needs.
By guest (Guest Post)
May 2, 2008
0

found this helpful
I too have the same problem. I am wondering if you take milk in your coffee, as I do. I am curious if the milk would harm or benefit the cactus? Also I am house sitting a Christmas Cactus for a friend, and the leaves have turned red. Is it getting sun burnt perhaps? thanks
May 3, 2008
0

found this helpful
You just made me stop and think of my Grandmother.She used to do the same thing.I miss her she was alot of fun!!Thank's for the reminder darlene
By guest (Guest Post)
May 4, 2008
0

found this helpful
I was wondering if this would also work for other plants of the same type. Like Jade plant, regular cactus, and maybe sedums? I also have a Christmas cactus that was my Mom's. I will try the coffee in it. Thanks for the tip!
May 9, 2008
0

found this helpful
I feed all my plants with my brewed coffee grinds. I fill a container(usually a weeks worth of coffee grinds) and apply to plants in the gardens and house plants too. I live in CA with a dry hot climate and I find it helps to enrich the dry cracking soil. I have found that Coffee grinds work well for roses too.
Happy gardening!
Jennifer CA
August 20, 2012
0

found this helpful
Thanks for the tip. I'm assuming you mean Black Coffee. If not, please let us all know. I have 2 Christmas Cactus' that I also took clippings from & put in other pots. They are alive - but still small & outside for the Summer. In Sept. I put in a dark place for 8-10 weeks & take out & fertilize w/Cactus Food & wait for Blooms around Nov-Dec. These are supposed to bloom twice a year, but so far no Blooms in Spring or Summer this year. Hopefully at The Holidays I'll have some Blooms. I just got them last Christmas. 1 White & 1 Fuchsia. Wish me luck!
December 22, 2012
0

found this helpful
Hi my name is Joan, and I love my Christmas cactus plants enven though they haven't bloomed in at least three years, and I'm so frustrated. I just had great success with a amaryliss bulb pre boxed with soil and it's pot and of corse it's blooming beautifuly and I did nothing to it. My cactus plants are my love.
I'm so happy I came accross this site. Regarding the coffee beans, my father always had my mom save each days coffee grounds and he would put them around his baby trees outside, and boy did they grow. Never tried them inside, but I'm going to.
A question regading the coffee-was the coffee (liguid-not ground) substituted for water? Or just used as a treat because I don't want to over water or in this cause over coffee (smiles) can I use the coffee and the grounds?
I'm going to start first thing tomorrow. Thanks to all of you and I will let you know my progress. Merry Christmas and belated Happy Chanukah, Joan
December 1, 2013
0

found this helpful
Obviously that works but what really works is rhododendron plant food. It is not expensive and it take so little (one forth teaspoon to a gallon water) that a small box lasts forever. It really makes the difference and the cactus will burst with blooms.
December 1, 2013
0

found this helpful
I have half a cup of tea on my desk right now. I tend to neglect the Christmas Cactus when I am not watering the rest of the garden in the summer/fall. I will go give it a drink of tea right now, and send you this pic. Blooms right on time, every year. Location location location. :)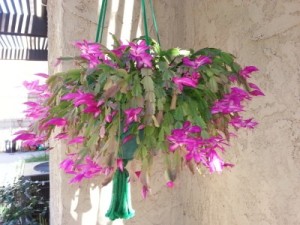 December 1, 2013
0

found this helpful
This is a very old post but still good information.
Several asked about coffee with cream or sugar. "My" master gardener says to never give plants cream or milk products so I go with him on that.
December 8, 2013
0

found this helpful
Do you use room temperature coffee or cold coffee on the cactus?
March 3, 2016
1

found this helpful
Coffee grinds and crunched egg shells. This was my moms watering seceret. She could grow anything, people would bring her their plants that were just about dead and maybe about 4 weeks later she would give them back so BEAUTIFUL. I have many plants too. Thank you mom for leaving me your talent. I miss you so so much
November 15, 2016
0

found this helpful
Hmmm interesting. I will try this.