March 14, 2008
0

found this helpful
Probably with this type of wedding most quests will get the idea that money would be appreciated, but some may still rather give a traditional gift. Have you thought about registering at a camping store such as Bass Pro Shops or whatever there is in your area? Best thing is probably to have close friends or relatives spread the word about the preference for money or items for your honeymoon.
For your Pastor maybe a gift certificate to get her nails done or a pedicure might be nice, that may not be something she routinely does for herself. Or maybe a pretty hanging plant of some sort, in May there should be plenty of those available.
For ideas for games you might try to "Google" "bridal shower games" and see what you come up with that may work with your guests.
I think the scratch off lottery tickets prize is a good idea but you may want to have a few other small prizes that the winner of each game could chose if they want, again maybe a pretty hanging plant or some sort of yard art thing in keeping with the theme of the outdoor wedding.
Hope this helps.
March 14, 2008
0

found this helpful
We had a very frugal wedding also. We had lived together for about 3 years, so we didn't really need anything either. When guests asked me what i'd really like to have, I had a list of practical items we REALLY did need - new towels, washcloths, linens, etc. In total, We spent less than $600.00 on the whole wedding. We got married in the front yard under the shade of a huge old oak tree. Guests were invited to 'just come as you are'. I was the only one who really dressed up for the event. My husband and stepchildren wore matching jeans and white shirts, and my stepdaughter wore a dress i'd bought for her at GoodWill.
Instead of having a florist, we landscaped the yard - it lasted longer and was much less expensive. My bouquet was picked from my parents yard. My mom had taken a course in cake-baking, so she made the cake. It was a very laid back, relaxed affair, and everyone enjoyed themselves.
Personally, since you're hoping for an outdoor wedding, I would pick games for both inside and outside, so you have something to do if it's raining. Don't worry about the money - some people won't have the time to shop for a gift, and they'll give you cash.
I hope this helps somehow! Hoping that you have a beautiful wedding!
March 14, 2008
0

found this helpful
Just say, "No gifts nessecary" and leave it at that. If you really want to go along with the campground theme, everyone could make smores together instead of having a piece of cake. You could say something about your two lives "melting" together into one delicious concoction...
Okay, that might be taking it too far. Just a thought. Congratulations on your marraige.
By Emma (Guest Post)
March 16, 2008
0

found this helpful
I totally understand where you're coming from! Don't let others' ideas of frugal vs cheap bother you - this is your day, your money, your future and should reflect that.
Personally I love to go to a nontraditional wedding. My sister married (second marriage for both) on my parents' farm and it was inexpensive and beautiful. The kids organized their own games and most of the pre-prepared games were forgotten as everyone just let loose and had fun.
To her close family, she said she didn't need household items and officially had a "no gifts necessary" message - which people responded to by offering food and decorations for the wedding. Many people also asked us (the immediate family) about honeymoon plans and if we could all go in on an expensive activity for them, or gift certificate they could use on their honeymoon perhaps, or after. Many people respond to "no gifts" with gift certificates, reasoning that we all have times when it's fun to pick something out we might not need but that adds to our lives in a nice way.
I hope your wedding is wonderful! Have fun with it!
March 16, 2008
0

found this helpful
There really is no tactful way of asking for any gift. When one does this, it's an indication that they expect a gift. Gifts are given, not expected.
Let your guests celebrate and learn from your frugality. "No presents please, just your presence" is a graceful way of inferring you don't expect gifts.
Some guests will likely ignore this and give you gifts anyways; in this case a thank you note is an acknowledgment of their generosity and should be sent ASAP.
"Casual" and "frugal" do not mean it's okay to forget one's manners and ignore the guidelines of etiquette.
Have fun and be blessed on your wedding day.
March 16, 2008
0

found this helpful
Our pastor / friend also did not charge for our pre-marital counseling nor the ceremony.
We still gave him a $50 in our thank you card, as well as a gift certificate to a restaurant where he and his wife could celebrate their own marriage.
"No charge" does not mean a monetary gift would not be graciously accepted. A gift from the heart would be just as equally appreciated: if you are an artist, paint a beautiful painting. If you are a CPA, give your pastor a free prepared tax return. If you are a hairdresser or an esthetician, give your pastor a free service. You can be creative with this.
March 17, 2008
0

found this helpful
First, let me say I love your idea! I have never cared for all the flapdoodle of a formal wedding. You might try explaining to people that since you will be traveling in a camper that wedding gifts would be cumbersome at best. Real friends and family members who love you should understand that money is a more appropriate gift. Maybe a mention of this in your invitations will work.
By (Guest Post)
March 17, 2008
0

found this helpful
I wouldn't specify formally on invitations or what have you that you want cash. Let your close family and friends know. Usually the guests will ask them what you need. Even if you get a few non monetary gifts, you will find that you will treasure them and think of that person whenever you use them. Even if you get 3 toasters, it will make for a fond memory between you and your husband.
Now, I'm not saying that this is in your case; but people nowadays seem to plan their weddings with what the monetary/gift value return will be. I've heard people talk about how much their wedding was and how they doubled what they put out when they tallied up the gifts. It becomes a financial speculation instead of a celebration.
I think that you have a whole year to finish up your thank you notes, of course, the sooner the better. Too many people have also left this matter of ettiquette to the wayside. Those guests who put the effort into attending and/or gifting the couple deserve acknowledgement. Even the eccentric great aunts who give you velvet paintings of Elvis. :)
Good luck!
By Angela (Guest Post)
March 17, 2008
0

found this helpful
I recieved an invitation in the mail that said "Jake and Kerrie are registered at the Bank of America" I thought it was very tactful and creative.
By (Guest Post)
March 17, 2008
0

found this helpful
Have your best man pass the shoe. Just have him take the grooms shoe and pass it around at the reception. Have him say something like lets get them off on the right foot (har har) and help out with the honeymoon. We did this at our wedding (sort of a tradition) and I think we got $200 or so. We also did it at my uncle's wedding and it payed for their whole honeymoon motel room for a few days.
That really helped us out. Also, we still got gifts, not sure how to say you would like money instead of gifts? Possibly ask for gift cards to your favorite store?
I like your attitude about marriage. It really isn't about a fancy wedding, it's about loving your spouse and being together for the rest of your life.
Sort of like me and my wife. We didn't really care for "fancy stuff". We used my sister's wedding dress (a few alterations). Had it in our church (we donated $100 i think). Our ceremony was awesome, short, to the point, no candle lighting song junk or anything like that, just a simple ceremony and we loved it!
We had our cake in the basement at church, then went to the shelter house at the town park where I live. No rent or fees at the park. A friend played music as a gift (she is a party dj) Simple food some koolaid/tea/lemonade/water and that was it.
Hope you have an awesome wedding!
March 17, 2008
0

found this helpful
I, too, had a very frugal and non traditional wedding (I wore green and my brother was my maid of honor). I would probably emphasize that you have been living together for awhile and don't need any "things". People will get the hint but the traditional older folks won't have as much to gripe about.
About your pastor, I had a friend of the family marry us and we didn't feel comfortable giving her money as a thank you. We didn't give any gifts at all at the wedding but bought special gifts for everyone who helped us while on our honeymoon, including our minister. That way, everyone got a thoughtful gift, not just something that we bought because of etiquette.
Hope some of this helps. Most of all, plan a wedding that you and your future husband will enjoy and remember. Everyone else can plan their own wedding that THEY like.
By amy (Guest Post)
March 26, 2008
0

found this helpful
honeyfund.com very neat web site
By Amy (Guest Post)
April 2, 2008
0

found this helpful
Thank you for posting this! My fiancee and I are trying to figure out a very low key wedding and you gave us the idea to get married outside I knew that I wanted to get married in jeans now it doesnt seem so crazy! Thank you!
June 16, 2008
0

found this helpful
It was fun and casual! Everyone said they had a good time and it was not as stressful as a full wedding. I loved it and wouldn't have done it a different way!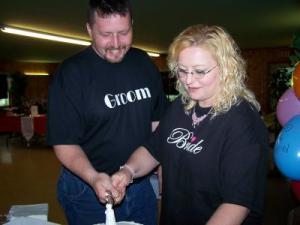 March 24, 2009
0

found this helpful
Hi, I know this wedding already took place, so congrats to the happy couple! They had some good ideas for a non-traditional wedding! For other that might be reading this, it is never ok to ask for money when inviting guests to an event. For a wedding, I'm sure most of your guests would already know that you have been living with someone for years! And they should already know if this is your second wedding or not! If they don't know, maybe they are not close enough to you to be invited. If you send invites out and do not put registry info in there, many people will most likely be giving you money or gift certificates anyway.