June 26, 2009
1

found this helpful
This is common. One of my cats used to do the same thing when he was a kitten, but he would suck on my t-shirt, especially at night after going to bed. I designated a special t-shirt for him, which I kept in the bed. Eventually he started going directly to his t-shirt, and then outgrew the habit altogether.
August 11, 2017
0

found this helpful
I have a kitten Speddy Eddy git him last October he sucks on everything including my boyfriend's nipples why is that?
June 26, 2009
0

found this helpful
It was weaned too early probably and needs reassurance of love and comfort. I would give it a material with lace on it and it will probably start sucking on that. If you try to discourage it, the kitten will be really nervous and may pick up an even worse habit, get nervous or be miserable. Just love the fact that the kitten is so loving and needs love back. Such sweet little ones. I have a group of foster kittens, they are all about to be vetted and I am not rehoming them until they are over 11 weeks old.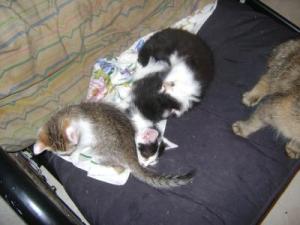 June 26, 2009
0

found this helpful
He thinks you are his Mama! He will grow out of it eventually.
June 27, 2009
0

found this helpful
Same as other posts :-) Weened too early and will grow out of it :-) Don't force him to stop because it will affect his personality and trust.
June 27, 2009
0

found this helpful
Yep, the little guy needs a "kitty pacifier." Anything to redirect him from sucking on you!
June 28, 2009
0

found this helpful
I've had 2 kittens that did this (mine & my moms). Enjoy this while you can because they stop when they get a bit older. It's so sweet. If you don't like it you can always buy a kitten bottle from a pet store & put water in it or stop up the nipple with a piece of cotton (it's kitty pacifier). This will give the little sweetie something to suck on. Sucking soothes them, be they human babies or kittens. That's why we give babies pacifiers. Simply enjoy. It won't last forever!
June 29, 2009
0

found this helpful
Like a lot of other people wrote, I have had this happen too. They outgrow it when their need to nurse fades away. It will make them closer to you even when they're grown up. The more a kitten is handled from day one the more friendly they are as adults.
September 12, 2016
0

found this helpful
My kitten is almost 7 months and still nursing on me.
July 23, 2009
0

found this helpful
A friend of mine's cat had 8 kittens 9 weeks ago. I helped and watched a couple of them being born. I took two home that were done weaning or would nurse very seldem at 5 weeks. I went to WalMart and they have kitten formula called First Born. I bought a box of that and when I brought them home I would give them a little twice a day and slowly wean them off of that milk. They always had water and dry food out. Now at 9 weeks one still tries to nurse when she's tired but on my neck and diggs into my hair. The other one has never done it.
October 11, 2016
0

found this helpful
It's true that they eventually grow out of it. Enjoy while you can. I had a kitten, that would suckle on my ex boyfriend`s earlobe. It was the most adorable sight, and so was my kitty.
December 26, 2016
0

found this helpful
Kittens should stay with their mothers at least 8 weeks.
January 14, 2016
0

found this helpful
I love it . my 6m old baby does it and then goes to sleep. I feel he just loves me so much. I see when I'm not in bed he does it to himself. To me it is priceless.
February 11, 2016
1

found this helpful
Joanne. I think young cats that have not had a normal kitten hood use faux nursing. I adopted an injured street cat who can handle himself. I think when he nurses on my arm he sort of spaces outbut this allows. him to totally relax for a short time, like in a Zen state.
I have only had him for 8 mos so we are learning from each other. When he does suckle, purring the whole time, he also uses his front paws t kneed your arm, which can be painful at times. From the look in his eyes when he approaches to
Suckle, he needs this bonding.
My name is Mark and Tucker is my first pet besides my duck.
December 18, 2016
0

found this helpful
Several years ago, we found a 3-4 day old kitten and had to syringe and bottle feed her for several weeks. She eventually weaned herself, but continued to try to suckle us. Eventually, she decided that a fleece throw was a good substitute, and uses that to this day. You might try to find a small fleece throw, about the size usually used for babies, or for the car. It's smaller than the usual 50" X 60" size. Try Walgreen's, Target, Dollar Store, or the infant department at a department store.