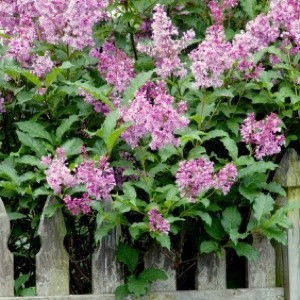 With regular pruning, the common lilac (Syringa vulgaris) maintains an elegant natural form and produces an abundance of fragrant blossoms. Without regular pruning, it soon turns into a mass of gangly stems and produces only a few flowers toward the top of its tall branches. Lilacs are hearty plants. Even the most overgrown specimens can usually be rescued and restored to their previous vigor using some specific pruning techniques.
Option 1: Hard Pruning
Lilac wood must be three or more years old to produce blossoms, so with hard pruning, expect to sacrifice flowers for at least three years. Start by cutting the entire plant back to within 6 to 8 inches of the ground in late winter or early spring (March or early April). Large shrubs like lilacs have extensive root systems.
A severe pruning stimulates the plant to send up a large number of shoots during the growing season to replace the growth lost to pruning. In late winter of the following year, select and retain several of the strongest, healthiest shoots to form the main framework of the shrub. Remove all others at ground level. Cut back the remaining "framework" shoots to just above a bud to encourage branching.
Option 2: Rejuvenation Pruning
Rejuvenation pruning is best done over a 3-year period. This allows you to enjoy a certain amount of flowers every spring, while ensuring the entire bush gets renewed in three years time. All pruning is done in late winter.
Year 1: Remove 1/3 of the largest, oldest stems to ground level.
Year 2: Prune out 1/2 of the remaining stems and thin out new growth. Retain several well-spaced, vigorous stems and remove all others.
Year 3: Remove all of the remaining old wood and thin new shoots.
After three years you should see new growth begin to appear at the base of the plant.
Annual Maintenance Pruning
Once lilacs become established, they require very little care other than a little bit of annual pruning to keep them looking their best. This pruning should be done in the early summer as soon as the shrub is done flowering.
Cut off any diseased, damaged, or unproductive stems to ground level.
If new shoots are numerous, remove some of the thinnest stems to encourage proper spacing and vigorous growth.
To maintain the shrub's nice shape, cut off any ambitious new shoots that are growing out of step with the rest of the plant.
Every few years, remove a few of the oldest branches (3 inches or more in diameter) to make way for younger braches that will produce bigger and better blooms.
New suckers (stray shoots that spring up from the roots) should be removed as a part of annual maintenance.
Spent lilac blooms do not deter from next year's growth and do not need to be removed after flowering. If you think they detract from the look of the plant, you can remove them immediately after they finish flowering without harming next year's flowers.
Additional Pruning Tips
Small twiggy growth is not productive and usually indicates too much shade or the presence of lots of old, nonproductive stems.
Suckers detract from the mother plant in both appearance and productivity. Remove them by cutting them off under the soil level.
Comments
Read More Comments