Festive Envelopes
Why let the card have all the glory? Using stamps and embossing powder to create elegant winter images, this craft makes the envelope enchanting too!
Materials and Equipment:
plain envelopes for Christmas cards
a gold or silver ink pad
decorating stamps (the kind you press into ink to create a stamped image)
a standard-size piece of paper
gold or silver embossing powder to match your ink (available at most craft stores)
a blow dryer (a stove top element works well too, but be careful not to scorch the envelope if using this method)
Instructions:
Before you start, clear the table and cover it with newspaper or a large garbage bag to avoid getting ink on the table.
Place one of the plain envelopes and your collection of stamps in front of you. Design (in your mind) an attractive pattern in which to stamp the envelope. (I have snowflake stamps and like to stamp them randomly on the front of the envelope.) Be sure to leave a place to write the address!
Stamp the images (following your pattern) on the envelope using the gold or silver ink.
Quickly, before the ink dries, pour embossing powder over the images one at a time. Shake the envelope over the standard-size paper. The powder that is not stuck to the image should fall from the envelope onto the paper. If there is still some stuck to the envelope, tap the envelope gently to remove it. Only the images should now be covered in powder.
Set the heat of your blow dryer or heating element to low/medium. If you are using a blow dryer, blow warm air over the embossing powder until it is melted. If the powder is not melting, turn up the heat on your blow dryer. If using a heating element, wait until it has heated up. Then hold the envelope above it, stamped side up, and continue to hold it until the embossing powder has melted onto the image. When it has completely melted (the powder will no longer look granular, but will look smooth), remove the envelope from the heat. Be careful not to scorch the envelope. Do not let small children do this craft if you are using a heating element!
Repeat steps two through five for each envelope. You can reuse the leftover embossing powder each time. Make as many envelopes as you want this way.
Turn the heat off on your heating element!
Address your cards and send them off to lucky family and friends!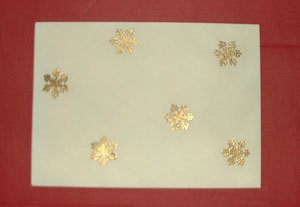 Add your voice! Click below to comment. ThriftyFun is powered by your wisdom!
Related Content