It seem like I have been thrifty all my life. Saving things to be used later on. Taking a little bit and making it stretch (hopefully). I used to find scraps or bits of anything at thrift shops, garage sales, even on the street, trying to make something out of nothing.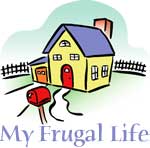 I still do. I would like to impart some of scraps tips with you. Some of my tips might be old hat. Some might be new.
1. I make my own business cards which are perforated. I notice the leftovers were perfect sizes for message and words when I make my greeting cards.
2. When I am punching holes in paper (I have the hole punch that has a little catch all, so it keeps the dots together.) I keep the leftover holes for additional decoration for my crafts projects. Cheaper than buying confetti.
3. I have started walking to get myself into shape. I find interesting things along the way. I found what looks like part of an old hanger, which happens to be plastic. The shape reminds me of Egypt writing. Just a quick clean and I have a template.
4. I collect old cereal boxes. I use them to make chipboard letters and embellishments. You can use just about any food box. You can do it one of two ways. Paint the box and draw your shape on the other side or apply decorative paper and draw your shape on the other side. Both ways work just as well.
5. Buy old puzzles pieces at a thrift store or garage sales. I use them to make earrings, add decorations to greeting cards or other craft projects. They are also good to make paper pulp with. Try it. It might take several days for the fibers to break down.
6. When I go the store, I always head to the clearance section. Once I found a piece of foam for 10 cents, only because someone had stepped on it. Don't let that bother you. You can either glue that side down or cover the spot with other decorations.
7. Don't throw away old earrings. They are the start of a great necklace, bracelet, anklet or a "free for all" non-matching necklace (my favorite kind).
8. I take the cards out of magazine to use like chipboard. Not only do they give my greeting cards a little more stability, they are free. Because I visit doctors' offices and waiting rooms, they are free for the taking. I can paint them or add other paper to them.
9. Leftover material from sewing projects can be used as embellishments. Even if the edge is ragged, you can always add ribbon, old earrings and paper to cover up the edges.
And finally
10. I find a lot my beads at thrift shops. I love working with wooden beads. Sometimes they are not in the best condition. My husband brought me a portable dremel. If there is a piece missing, I drill a hole on the other side. Slide a piece of wire and I'm good to go. Or if paint is on a bead, no problem, just keep adding paint or markers until you get something you like. I found these two black wooden rings and the bottom of a barrel. They were free, of course. Both of them had what looked like paint. I just continued to dab paint (which was copper color) on the remaining pieces. I used copper and black beads to finish the necklace. Turned out great.
See, scraps are not meant to be thrown away. Use them to your advantage and you will come out with something unexpected and pretty.
Jetruth from Waterloo, IA
Do you have a frugal story to share with the ThriftyFun community? Submit your essay here: http://www.thriftyfun.com/post_myfrugallife.ldml