September 15, 2010
0

found this helpful
Spray paint nicelooking pine cones gold & silver, put in a nice basket, and lay some evergreen boughs around the basket with a couple of Christmas ornaments. Very Cheap!
This is also a cheap way to go because I make these all the time. Take an Old CD and place christmas cloth on top, just cut circle by using CD, Then get an Christmas, Thanksgiving, or Halloween at one of the dollar stores like Dollar Tree. Use Quick drying glue from walmart. Add border around it with matching ribbon and small decorations. This is my own creation, and I am sending pictures of what I made. You can add holiday plastic vines and decorations around the centerpiece to add a festive look to the table.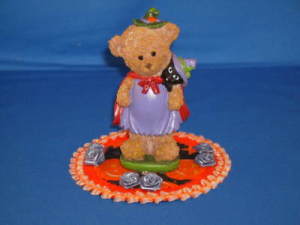 Here is another one I made also. More to follow.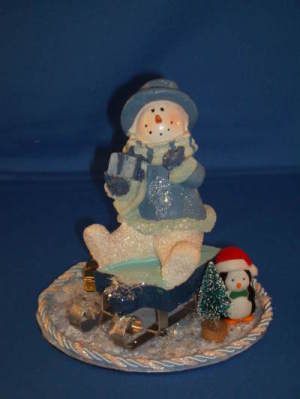 Here is another.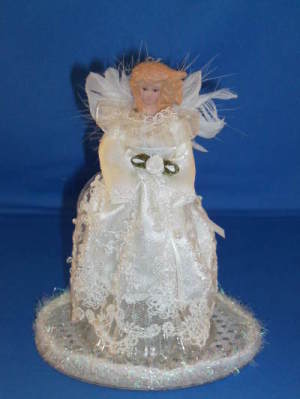 I did not make any for thanksgiving but that is my next project. One more after this one.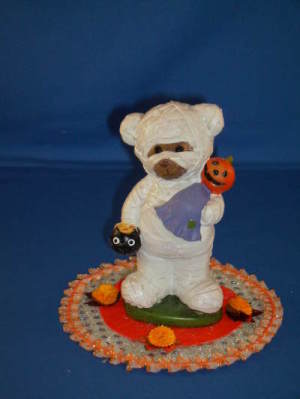 Last one.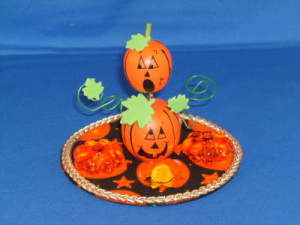 September 15, 2010
0

found this helpful
If you have, can get, or can borrow a number of the glass Christmas balls, they look nice in a trifle bowl, or other clear glass bowl (especially nice if the bowl is straight-sided).
I have also seen bowls filled with holly cuttings, or with fresh cranberries, with or without springs of greenery, then filled with water. I have seen them with floating candles on top, and without. If you use a large bowl, you can weight the things down with a clear glass plate, which becomes nearly invisible in the water.
September 15, 2010
0

found this helpful
You can simply wrap empty boxes of various sizes and pile them like presents in the centers of the tables. You can use any colors, add gorgeous bows and ribbons, tuck in pine cones and ornaments, etc. You can also use up any extra wrapping paper you might have. I'm doing a variation on this for my wedding, wrapping boxes and having paper flowers wrapped in cellophane emerging from the top, you can do this with Christmas greens or flowers, as well. Good luck!
September 15, 2010
0

found this helpful
I went to the dollar store and picked up the largest clear glass vases they had, a few packages of small Christmas balls, some of that wire garland with stars on it, and some wide ribbon. I placed the balls in the vase with a strand of the garland, put a bow on the outside. They were so pretty and inexpensive, and I used the vases after the holidays.
September 16, 2010
0

found this helpful
The dollar store has lots of candles, candy canes, christmas garland etc. It wouldn't be too difficult to make some inexpensive decorations for a party.
You could wrap some candles in candy canes, cinnamon sticks or even the fancy garland and sit on mirrors. Christmas confetti is also festive around a simple center piece. Good luck.
September 16, 2010
0

found this helpful
If you have access to branches around 4" thick and 10 to 12" long, cut one for each centerpiece. I drill a 1"hole in the middle put in a candle, use any greens from the trees to make a nest for or to decorate the "yule log", add a few pine cones and berries or ribbon. I have a table saw and I cut a slice off of the bottom so it sets flat but you can make it set steady with other branches or hot gluing small sticks to the sides. You could skip the candles and stand a pinecone up in the center. Spray it with spray glitter or snow. Other than the candles you have no expense. You could buy a sprig or two of artificial berries or Christmas decorations to cut up and put a couple on each one. Good luck.
September 16, 2010
0

found this helpful
If you can find enough pine cones, hot them together in the shapes of Christmas trees, spray paint them green or gold or white, whatever color suits your theme and then put a bow at the top. Use wired ribbon or inexpensive pre-made bows if you aren't a great crafter person. You could add some cheap "decorations", tiny bulbs or something, in the middle of them, if you want to spend more money.