Supplies:
Four 6x7 inch strips of 4 different cotton fabrics
4 pieces of felt to match your 4 fabrics
Tacky glue
Fusible web
Iron
White paper
Pen for writing
Scotch tape
Sewing machine optional
Needle and thread
Instructions:
You will need to cut 24 1x7 inch strips of several fabric scraps. Cut 24 1x6 inch strips of felt, matching the fabric scraps if you want.
Glue your felt strips to the fabric strips starting at one end. Let the glue dry. If you are accustomed to making buttonholes, you can now put a buttonhole in the end of each strip where the felt is short, as shown in the photo. If not, sew or glue one half of a pair of hook and loop dot sets to each end. To make sure you get a set, do one loop at a time or lay them all out and do one end with the hook side, then turn the loops all over and do the other end of all the loops with the loop end.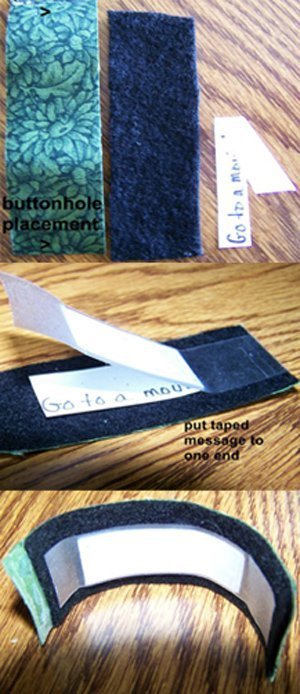 If you did the buttonhole closure and have a collection of old buttons, have the kids choose the buttons and paint or decorate them if they want while you are making the buttonholes. Of course they might find a few they just have to use that are a different size so you might want to wait to see what size buttonholes you will need. You could adjust your strips wider if you have larger buttons on hand instead of buying some. Check out Goodwill and the clearance bins, Dollar Stores and such. You could use big safety pins or diaper pins if you have a new baby in the house or just happen to have some around. Use your imagination and have fun with the kids. Sew the buttons on the opposite end and side of the buttonhole.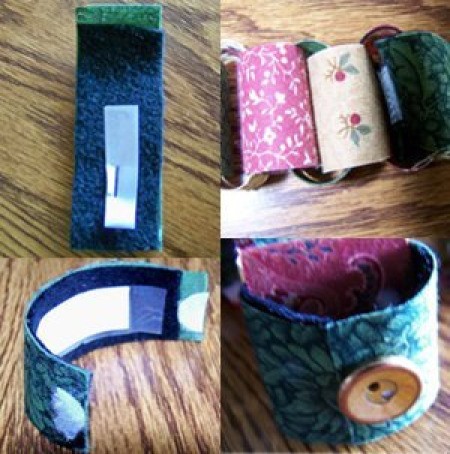 Now is the fun part. For each of the 24 strips you need a message to attach on the inside. You can use an activity planned for that day such as making Christmas cookies or candy, or a visit to a person you know who is a shut in or not feeling well. Maybe you will want to give the kids a day off now and then by hiding a pre-Christmas gift: barrettes or a matchbox car, maybe just a candy bar or a rental on a movie. Let each child pick their favorite food for the main dish that evening. Maybe you could all sit down and share a memory from Christmas past. My sister got a letter from our great aunt at Christmas one year telling us things about our mother we didn't know and she read it to us at our "share a memory" time. You might be surprised what memories are important to your children. Just write your message on paper heavy enough that you can't read it form the back.
You can attach them to the inside of each link, taping or stapling so they can't peek ahead of time. This is the only part you won't want to let the kids help with so it is a surprise to them each day. If you were going to put your garland up where they can't or won't reach it, taping would be fine. However, why put that much temptation in front of them? I would staple them to start with. Santa is watching, you know!
It will be great fun for the youngsters to wait and see what is in the next link and make counting down the days until Christmas more fun. In years to come, all you have to do is change the message or mix them up. The staples won't hurt the fabric.
As I always say and try to do myself, it doesn't matter if the project comes out perfect, as long as the children had fun. Besides, we made a memory with them one more time.
The basic idea came from the The World Encyclopedia of Christmas.
By Ann from Loup City, NE