January 25, 2010
0

found this helpful
If you know where the wedding will take pace, come up with a plan or outline the decorations wanted - pew bows, flowers and or candles on the alter, centerpieces, etc and start looking now for items to help. Check for discounted Christmas lights, white lights will be decorative in any season. Now would be a good time to start some seeds indoors so that by wedding time there will be flowers for decorating. Depending on the colors, after Valentine's Day and or After Easter sales may prove to be a gold mine. Start with a plan but be flexible you never know what you might see that is a great item but in the 'wrong' color.
If you find a candle in the wrong color, you can melt some wax and add the color you want and either whip with a rotary type egg beater and apply to the outside of the candle or you could paint the wax on the candle with a paint brush. Of course if you find something you could always post her for how to make-it-work.
Not waiting until the last minute will help with budgeting and cut down on last minute panic purchasing. Good luck
January 25, 2010
0

found this helpful
Is there a time span in mind? If so, how many hours is predicted for the wedding, from ceremony start to reception end. If it's going to be only a few hours, find a time frame after a meal time, so the food served will be light and inexpensive. (A wedding from 1 to 4 P.M., or 6 to 9 or 10 P.M., will have guests coming just to celebrate post-meal.) Consider serving only desserts for the guests, such as a cupcake 3-tier set-up, for about $2 per person, instead of a $5 per person cake. Also, ask for help from friends and family, and maybe a loved one can make a beautiful wedding cake as a gift to the couple instead!
This site (thriftyfun.com, of course!) has some great money-saving ideas for weddings and parties. After my own browsing, do-it-yourself weddings can provide a wonderful wedding on a bargain budget! (I.E. make your own invitations, if they haven't been mailed already: use card stock with coordinating ribbon/design/lettering/envelope accents, such as a black computer-printed elegant font on white card stock with a shimmery light green border and matching green for the envelope, or other related colors to the wedding).
Salvation Army has a 1/2 off day (in my area at least, but I think nationwide stores have the same once a week) that may offer BIG savings for vases, table cloths, clothes, ribbon, sewing patterns, platters, fake flowers, stationary, etc!
Pictures: An idea from this site offered an idea to get portraits at a sit-down studio before the wedding. However, the groom will see the bride before that traditional alter-walk so keep that in mind when considering the nostalgia factor. or, get a friend with a nice camera, and skills to take pictures, or pass out many disposable cameras for an array of personal photographers' dear moments of the day.
Favors: these are optional, remember. Perhaps the couple can send out a wallet size picture as a favor with the (homemade) thank you cards? Or, have a small candy buffet (with post-valentines chocolates/other sweets) and little 3"x4" hand-sewn fabric, draw-string bags or small/same size paper fold-over bags made from card stock or pretty scrapbook paper for guests (glue a U-shape with 2 exact pieces of paper with the blank sides facing, or make small hole-punches and weave thread or ribbon to secure paper together to form a rectangular goody bag).
January 28, 2010
0

found this helpful
You already have some great ideas that other people have posted but if you are looking for decor or bouquet you may think of making the flowers out of coffee filter and color with food color or bingo dabbers. You can also make small flower bouquet in a small painted clay pot and give as wedding favor. Think "nature" and "recycle" and you will be amazed at what you can come up with. Simplicity can be a beautiful thing. Wishing you a happy life.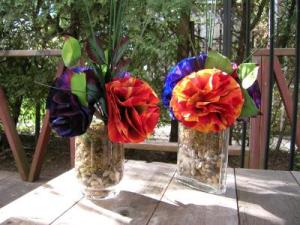 January 28, 2010
0

found this helpful
Call close friends and family for help. Ask if they have decorative items, paper products, that kind of thing. Check online, ebay sells personalized napkins for a fraction of what you'd pay locally.
A group of friends put on a wedding at a church recently. I found one person who bakes wedding cakes, asked her to volunteer if I would help do that cake and another, she agreed. Cost of materials was about $20. Alternatives would be a cupcake tower, or even a donut tower. Or, do a fake cake (towels and ribbon) and then sheet cakes to serve. The cake alone can cost hundreds.
I heard of one woman who bought cakes from Krogers, three different sized 2-layer cakes with no decoration on top, and stacked them at the reception site. That cost a fraction of a normal wedding cake cost. If you go this way I would have an icing bag and can of white icing with me at the site, just in case there are any small repairs to make, One of your friends should be capable of doing this.
Food can be as simple as punch and cups of nuts, but we made a meal very cheaply. We checked the sale ads, found chicken for .99 a pound. Then I went to the closest store and told them the circumstances and asked if they would meet the price. They did. Rub chicken with mayonnaise, very thin coating, then dip in bread crumbs mixed with salt, pepper and paprika. Bake on cookie sheets for 50 minutes at 350, then put into foil-lined coolers (no ice, you're trying to keep it hot).
My sister picked up rolls that morning from the day-old store. She got a variety of styles and it looked good. We also got the breadcrumbs there.
Cole slaw can be made cheaply, lots of recipes on the internet. Or buy bagged salad greens, add a few veggies and a couple of bottles of dressing. We also made mac and cheese. Everyone was happy with the food.
It's about the party and the love and support for the couple. One of my favorite weddings of all time was a potluck.
January 28, 2010
0

found this helpful
Dollar Tree actually has wedding supplies!
January 28, 2010
0

found this helpful
Go to all the wedding shows you can. When I got married I signed up for every drawing they had in the end I won my wedding site and got great discounts on evrything from my flowers to the tuxes. I got both my husband and dad's for free.
You can also get great ideas for favors you can do for at least half the price the vendors will charge you. I made 300 favors for my wedding for about $75 and the same favors were going to cost me around $5 each to order them. You can order sandwich trays from Costco for food and have family and friends bring a side dish.
The one thing I found out was no one remembers the what they ate or what the site looked like. They remember having a good time.
January 28, 2010
0

found this helpful
Have a potluck meal have everyone bring their favorite dish, ask them to write out the recipe for the bride and groom, (great to get them started) and you supply the meat.
January 29, 2010
0

found this helpful
I have seen people totally decorate for a wedding out of the Dollar Tree store! If you can find a good one, the biggest in your city, that one will have the most supplies for your wedding. I hope this helps!
January 31, 2010
0

found this helpful
Have a pot luck wedding where everyone brings a favorite recipe along with the recipe written on an index card and then the bride makes everyone copies of all recipes and gives them to the guests as a thank you.
February 4, 2010
0

found this helpful
Yes, it can be done. Use Christmas clear lights for decorating. Use all you have and borrow some
from friends.
I had a champagne & cake reception following the wedding. We had beer, champagne, sodas and lots of great appetizers. Tortilla pinwheels were a hit and can be made a few days ahead. Buy inexpensive large salsa jugs add, canned shoepeg corn, corn, black beans and it will stretch salsa and looks and tastes good add a splash of lemon or lime juice.
People also love spinach dips. If you want a meal then have family make some to bring from bride and groom. That will help. Also keep track of who brings what as you can say Thank you for it in the TY notes. Cut up fresh fruits.
The point is for all to enjoy and have a great time. I could not afford much yet it turned out a million times better than I planned. So good luck!
February 7, 2010
0

found this helpful
Thanks everyone for your ideas. I passed them on to my sister.
February 18, 2010
0

found this helpful
We did a real simple centerpiece, that's really inexpensive but looks really great! I took Pringles Chip cans and wrapped them in a coordinating scrapbook paper and added a ribbon with raffia and a twig. Then I put sand in the bottom and added some simple floral stuff around the rim and then the bridesmaid's and myself put our flowers in the containers after the wedding to get double use out of the same flowers and it looked wonderful and no one noticed that they were the same flowers.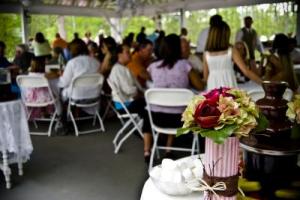 February 19, 2010
0

found this helpful
I used Costco for flowers for my daughters wedding. 3 doz is 12.99 THat is plenty for single bud vases and flowers for your sister. Have the wedding at 1:00pm or at 7:00pm avoid meals. Just serve the dessert. By the time the ceremony is over its 8;00 and dessert is fine. Make it simple, less is more and elegant. Also some halls have bud vases you can use or ask a church aux if you can borrow. There's a lot out there ask around. People love to help at weddings.
Ask some one you trust to be in charge of decorations and to get them donated. Between everyone they come up with a little of everything and everyone is happy. I borrowed things from neighbors and family. It took a week to return things. Be sure to put address stickers on lights and things so you know whose what. You won't remember. Start shopping for valentine sales they 80% off right now. You can rent or borrow a dress.