By guest (Guest Post)
October 4, 2008
0

found this helpful
Best Answer
I've costumed my church Christmas pageant for about 15 years. Many of the costumes are items donated to our annual tag sale. Some are 1970's bathrobes, looking right without any work at all.
An old table cloth for $2.00 can make a great costume. Just fiddle with it, cut neck holes, pin with safety pins where you think would work. It's only $2 of material, so you can take a few risks! Most of my head coverings are fabric cut from men's dress shirt backs, held on by cut off lower T-shirt sections. Messy is authentic, as are un-hemmed neck holes. Remember weaving was done by hand and the only patterns that are authentic are solids or stripes.
Leave off those sneakers! Go barefoot, or wear dark sandals. Leave off nail polish! Cover up any modern looking shirt collars with any scrap of fabric that can be tied around the neck. Bright colors are authentic. Sashes around the waist are authentic, so any long strip of fabric would be just fine. I've used neckties.
Shepherds at the time wore sheepskin wraps for warmth, so any bits of fake fur, or leather can be nicely added around the neck by just cutting a slash in it.
I put my angels in anything white I can get. The better costumes are squares of white satin, with a neck slash, that I've added scraps of sequins, etc. to to make them more fun. I have tiaras for all of them too. Some are donated, some I made with wire and broken costume jewelry. The favorite last year was a rhinestone necklace the oldest girl simply pinned flat on top of her hair.
Every one has more fun if their costume is special, so all of the ones we use are unmatched.
Have some fun.
Londa
October 15, 2009
0

found this helpful
Best Answer
Female Bible Characters - My daughters have dressed up as Lydia, seller of purple. We had a white robe type outfit on her, with a purple scarf draped over; and she held a small wicker basket filled with several scraps of different shades of purple fabric, and other purple items. And Esther - dressing her like a queen was so fun, and then there was the daughter of Pharoah holding a basket with a baby doll in it (Moses). We had a black wig, and dressed her in an Egyptian style "robe". Hope it helps with the female character ideas. I need something for this year.
October 3, 2008
0

found this helpful
We put on plays at Vacation Bible School every year acting out Bible stories. We made our costumes out of inexpensive fabrics. We took long lengths of fabric, folded it in half and cut out a hole for the head. You then take any type of cording and wrap it around your waist. The wider the width of fabric, the longer "sleeves" you will have. You can also drape a coordinating fabric across the shoulder. If you have left over fabric you can make a head piece. You can use a cord again to secure it around your head or some kind of elastic band. Wear them with some strappy sandles and it's very "Bible" looking. Good luck. I'll try to find a picture to post for you.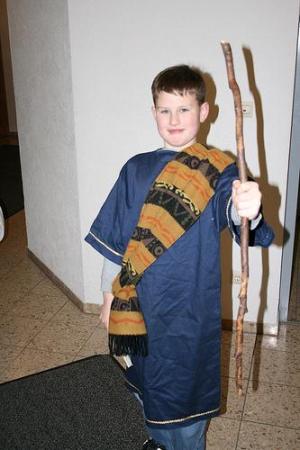 October 4, 2008
0

found this helpful
Don't forget that females don't have beards drawn on. ;) Bath towels or just a piece of rectangular cloth works for a drapy headcovering, just pin it on with barrettes or bobby pins. There's a free PDF pattern at www.domestic-church.com called the Mary Dress.
By guest (Guest Post)
October 5, 2008
0

found this helpful
Find an old choir robe add a gray wig, beard, and a staff and you have Moses.