This quick and easy clay pot craft uses a green pom-pom and fake flowers to make a decorative topiary bush. A great kids craft that can also make a cute addition to any Barbie/Bratz home or dollhouse.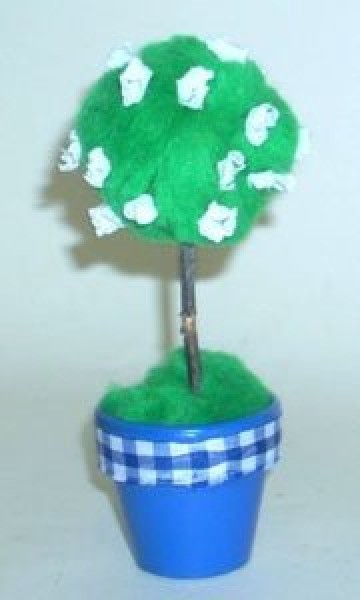 Approximate Time: 10 minutes
Supplies:
clay pot - 2 inches tall
green pom-poms - 2 - 3 inches big
stick - 4 or 5 inches long, thin
white fake flowers - 18 to 24 - 1/4 inch big
blue and white ribbon - 1 inch thick, 6 inches long
craft glue
blue paint
paintbrush
Instructions:
Paint the clay pot blue, both inside and out, as shown in the "Step 1" picture. Let paint dry.
Add a band of decoration around the wide rim. You can paint the decoration, or use some glue and ribbon, wallpaper, shelf paper, wrapping paper, or whatever you want. Just make sure to keep it looking like a decorative "band", and not a ribbon and bow. I used a blue and white ribbon. I pulled it tight and glued it in a flat band around the clay pot, as shown in the "Step 2" picture. Once finished decorating, let paint or glue dry.
Glue the bottom of the stick to a green pom-pom. Drizzle a little glue on the end and push it in the pom-pom, then let dry.
Glue the pom-pom inside the clay pot, as shown in the "Step 3" picture.
Glue the second pom-pom on top of the the stick, making a tree trunk and tree. Remember to press the pom-pom onto the stick so it glues securely, as shown in the picture. Let the glue dry.
Use stickers, paint, beads, or fake flowers to decorate the pom-pom "bush". I used tiny, white, fake flowers and a little craft glue. Glue decorations to pom-pom as shown in the finished project picture. Let glue dry.
Notes:
Make two of these as formal decorations outside a fancy dollhouse castle or as a decorative plant in the corner of a Barbie doll mansion. You can make the "trunk" part as short or as long as you want, so it's easy to customize for whatever the exact scale. The stick can be real wood, wire, a chenille stem, or whatever you want.
As long as everything is glued properly, the item should put up with a fair amount of abuse and still last. If something does end up falling off, though, it's always easy to fix. Pom-poms are also great for sucking up fragrant oils and making them last a little longer, so sprinkle a little on one to help freshen up a room.
By Aysha