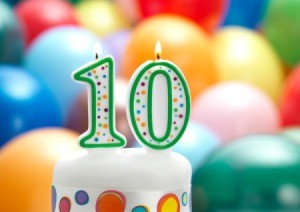 What do you do if you have not very much money for your kid's 10th birthday? It is on the 12th of October. I am interested in something other than bowling or the cinema.
By Amber
Answers

October 10, 2011
2

found this helpful
Best Answer
How about kids karaoke? A game of monopoly with a few friends? Or play old fashioned kids games at your home such as pin tail on donkey, musical chairs, etc. Hide some prizes and have them all go on a scavenger hunt.
When my child was 10, I bought a big bag of candy and prizes such as bubbles, whistles, etc. I stood at one end of the lawn and they stood at the other. I gave them each a lunch bag then spread the candy out in a line in front of me and told the kids to run after it when I said "go". Whatever they collected in their bag was what they got to keep.
Please make sure to keep a couple of extra little lunch bags with some candy in it in case someone doesn't get any candy. The bigger kids beat the little ones to it and by the time the little ones get there, there's not much left to get.
Another thing you can do is play a game like "Simon Says" and they can go collect their candy when they get to a certain point. This is helpful in giving the smaller kids a head start.

October 10, 2011
0

found this helpful
Best Answer
First of all, are you talking about doing something with some of his friends, or just a family birthday affair? It's not too early to have a pre-Halloween celebration. October 12th this year comes on a Wednesday. I'm assuming this would be an early party, whether or not it is for a crowd or just your child and your immediate family. You could make a cake and decorate it with Halloween things...lots of ideas online for that type of thing. You could dim the lights and either read or tell spooky stories. You could do a kind of pre-Halloween theme to set the mood and make plans for the coming Holiday.
Before all of our nieces and nephews grew up, we used to throw big Halloween parties...not necessarily on Halloween, though. There are too many parties and other activities on the day, so we would set our party for two to three weeks ahead. That way, everyone got to test out their costumes, etc., for when the big day arrived. We always had different themes each year...but no matter what we did we always had games that cost virtually nothing to play.

Louise B.
Silver Feedback Medal for All Time! 337 Feedbacks
October 11, 2011
0

found this helpful
Best Answer
I am assuming this is for a kids party. I always had a few friends over, 5 or 6, and they had a wiener roast and cake or ice cream cake if the birthday boy chose that. At 10, you likely don't have to plan much. They can make their own fun. If you want to do it up bigger, have a sleepover on the weekend.
They can watch movies and eat popcorn. Again, you don't have to fuss. I am assuming these are boys, but if it is a girl, same idea applies. They like to do each others hair or put on nail polish and stuff like that. Birthday parties don't have to be expensive.

June 24, 2016
0

found this helpful
Best Answer
Go to the dollar store or use any old cups or napkins that can match the color of the theme. The dollar store has so many cute options to choose from. You can also go to Party City or Party Fair. The have many cheap decorations for 99 cents :}

October 7, 2011
0

found this helpful
Have it at home, and play games like pin the tail on the donkey, etc.

April 26, 2015
0

found this helpful
So if it is a girl than invite her friends and than get Totinos pizza and than her friends could spend the night. If a boy than same thing but maybe spend it in a tent. The kids will figure out then the rest.
October 24, 2015
1

found this helpful
im not trying to be rude but i don't think that you should have like simon says cause well thats for like 7 or 8 years of age you should have for girls like a disco party, karaoke, pizza cake they love that sort of stuff :)

July 16, 2016
0

found this helpful
i would go for ice skating in bondi you spend like 15 per person i think go onto there website
September 25, 2016
0

found this helpful
ask her what she likes and build around it
November 21, 2016
0

found this helpful
You can tell your child a idea and see what they think
Answer

this Question