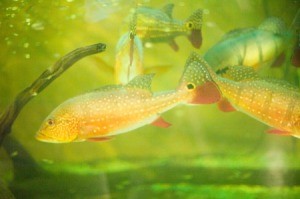 Dirty fish tank water makes great plant food. Instead of pouring all those great nutrients down the drain use it to make your plants look great.
When I clean my 29 gallon tank I empty the water into my kitchen trash container then plunge an empty plastic kitty litter jug into it and fill it with the plant water. An empty cleaned out milk jug could be used.
If you don't use it right away, be sure to shake it before using as it does tend to settle on the bottom. It works better than plant food in my opinion.

By ann from Saint Peters, MO
Comments

March 24, 2011
4

found this helpful
Top Comment
Aquarium water is great for plants because of the natural fertilizer in decaying fish poop...however, rarely if ever should an aquarium be 'cleaned', a partial water change allows the beneficial bacteria colonies to thrive, and these colonies convert deadly ammonia and nitrates into less harmful nitrites. Only change 10-15% of water each time, as a general rule. I have been successfully raising and breeding freshwater tropical fish for over 40 years.
Read More

Comments