Here are Christmas ornaments that I made at different items.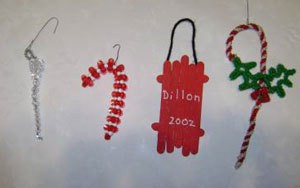 Approximate Time 30 minutes each
Supplies:
ice cream sticks
pipe cleaners
beads
acrylic paint
hot glue and gun
ribbon
Instructions:
Icicle
For the icicle, take a white or silver pipe cleaner as long as you want. Take the crystal beads and start with the smaller ones on the bottom. After you have twisted the pipe cleaner on the end to keep the beads from falling off, then use the bigger beads as you get to the top as in picture. Twist down at top and attach hanger.
Bead Candy Cane
For the bead candy cane, take a red pipe cleaner and twist in the shape of the cane then twist up one end. Put your beads on, you can make it as big as you want or use any colors you want. Keep putting the beads on until you get to the end. Twist that end of the pipe cleaner around the last bead and attach an ornament hanger.
Sled
For the sled, take 4 medium size ice cream sticks and glue together side by side then take 2 small ones or cut one of the medium ones in two and glue on bottom as in picture. Attach string to hang on tree. You can personalize it if you like. I hope you and your kids will make these and hang on your tree and enjoy.
Candy Cane
For the pipe cleaner candy cane, take 2 different colored pipe cleaners and twist them around each other then shape like a cane. Then take a green one and shape like leaves as in picture and twist around the cane. Attach an ornament hanger.
By Sandy from Bluff City, TN