What color and type of flowers should I choose to go with wedding colors of turquoise, raspberry and ivory?
Theressa from Seattle, WA
Answers:
Flowers to Match My Wedding Colors
I love Tiger Lilies for a summer wedding and they come in so many pink colors.Or go neutral with white roses with tiny ribbon loops of the colors you have chosen.Silk roses can be bought ahead,bouquet made and stored until the wedding,saving you money and giving you and your attendants flowers to keep for years as a momento vs.flowers tossed out in a few days.Garden Ridge (in Ky) has any type of silk flower you could want,and they'll soon (if not now)be on clearance.Good luck with your wedding!
By Sharon,Ky
Flowers to Match My Wedding Colors
I saw a wedding planning show on TV and they suggested white or off-white roses embellished with ribbons that match your wedding colors. Saves money and looks elegant, too.

By ImTrish
Flowers to Match My Wedding Colors
Wow, what great colors!! I think orange calla lillies, and sage or green hydrangeas, cream roses with hot pink would be great. I did a wedding last year, with blue hydrangeas and lavender roses. They were wonderful. Depends on the time of year too. Here is a style you might enjoy! Let me know if you need help.

By busymomof4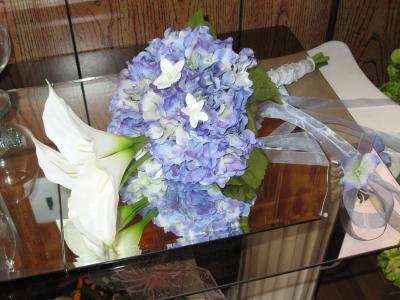 Flowers to Match My Wedding Colors
Stargazer lilies have nice raspberry colors with striking fragrance, I think they are in the Asiatic class. White roses as posted above would give you the cream colors, and with turquoise ribbon, you're set. that would be my best guess. Best wishes to the bride-to-be!

By Kim Ch
Flowers to Match My Wedding Colors
WARNING, IF you use these lovely lilies suggested, just REMEMBER to CUT OUT THE INNER PESTLES? THOSE LONGER center PARTS THAT HAVE THE POLLEN ON THEM, BECAUSE THE POLLEN WILL STAIN BIG TIME !!!
I love the lilies, and you will too if you combine them with Babies Breath, otherwise, they are too big for a wedding Brides' bouquet, but perfect for a table. Good luck and God bless you. : )

By Lynda