December 15, 2009
1

found this helpful
I have not seen a kit for making the tree, but I am in the process of making one. I bought a green floral cone at the craft store and covered it in dark green velvet from an old pillow. I have been adding sparkly old jewelry, from thrift stores and family, as well as the flat back craft stones. The base will be a wooden block, sprayed gold, and encrusted with more craft stones. I also bought some of the small clear lights with a battery pack at the Dollar Tree. This will, I hope, be a beautiful heirloom project, with very little expense involved.
October 6, 2018
0

found this helpful
This sounds so beautiful!
Please post a picture of your tree!
December 21, 2009
3

found this helpful
Take a large piece of thin ply board. On the backside, draw a large tree. Drill holes here and there, evenly spaced as you would like them to insert tiny colored lights through. On the front side I glued a large piece of black velvet and make holes where the lights will be placed so they can pop through okay. Where the tree is, glue jewelry: pins, bracelets, pretty buttons, break apart necklaces and bracelets.
Use good glue (I can't remember what kind I used but it has to be effective on the jewelry and fabric). Use bracelets as the trunk and base. Be creative. Find a star to use at the top. When I make mine, I always put something to the outside of the tree like a dragon fly, butterfly, bird or something shiny. I will try to get a picture posted later.
You can take a large frame. Paint it if it isn't pretty.
December 21, 2009
4

found this helpful
Here are some pics of my tree I made about 30 years ago and still use.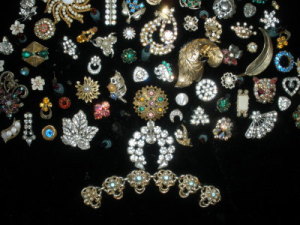 December 21, 2009
5

found this helpful
More pics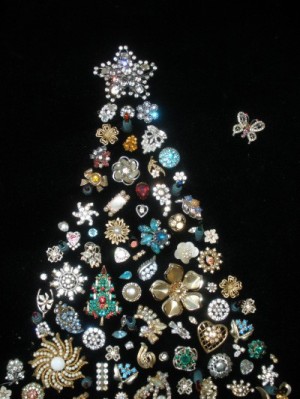 December 21, 2009
2

found this helpful
Last one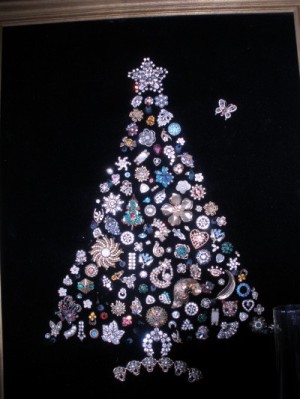 October 6, 2016
0

found this helpful
So you just let the felt or velvet cloth show? How would it work to fill in the visible cloth with glitter glued to the cloth?
Do you think this would work or would the glue streaks show through...
December 16, 2016
0

found this helpful
Can I buy a Christmas tree kit.