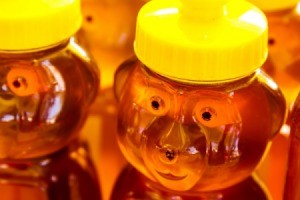 I am looking for cute, crafty ways to reuse bear shaped honey containers. Any suggestions?

Carol from Iowa

Answers
August 9, 2008
1

found this helpful
Gosh, they would make great containers for homemade sauces, dips, or not so homemade sauces like katsup or mustard! If you did not want to use them food related, they would make great glue holders, acrylic paint for a large art project or to hold glitter! They would be a cute and secure way to have and transport glass beads if you still have the lids and caps! Wow - the sky's the limit! Enjoy your many more options!
August 11, 2008
0

found this helpful
I agree with using it for mayo and mustard, but why not go beyond that and use it for shampoo and conditioner.
By JC (Guest Post)
August 11, 2008
0

found this helpful
Fill them with glitter, paint, finger paints.. for kids to use.
Also put cake decorations in or Sundae toppings and let the kids help in the kitchen.
By Carol (Guest Post)
August 12, 2008
0

found this helpful
Thank you for the great suggestions. Please don't hesitate to add more ideas if you think of them!
By Diana (Guest Post)
August 13, 2008
0

found this helpful
Great for kids shampoos or body wash. How about sand art containers (either to squeeze from or to fill with colored sand)? Might make a Cute Vacation memory jar for young kids.
August 14, 2008
0

found this helpful
If you have a large amount of these -- like 20 or 30, you could donate them to a local school for someone to use in a craft project in an elementary classroom. If these are glass jars, they could be filled with stones or something decorative for display. If they are plastic, as I think they are based on the feedback you have been getting, they could be used for something else.
Since they are bears, perhaps they could be used somehow in a 3 bears or winnie the pooh theme craft in a primary grade or pre-school.
August 18, 2008
0

found this helpful
I was stunned recently at the price of plastic bottles with pointed nozzles, to decorate when serving food. Like for squiggles of syrup or chocolate sauce to dress up a simple cake, thinning out jelly and decorating a plate when you servce desserts, pureeing veggies and making designs on food. Never thought to use my empty bear containers. But, your question made me realize how to recycle the bottles.
February 25, 2010
0

found this helpful
Make giant gummy bears:
www.pimpthatsnack.com/.../1
Look here to see the best use of them. Trust me, its so much fun.
September 29, 2015
0

found this helpful
How about using them to make chocolate milk. Put in the milk squeeze or spoon in the chocolate put on the lid and shake. Also for mixing homemade salad dressing
June 8, 2018
0

found this helpful
Coat the inside with Vasoline, fill with mixed up plaster of Paris. When hardened and cool, peal off the plastic. A neat bear figure for kids to paint and decorate. The container might peal off easier to start cuts through the top. The easiest way to coat is to melt the vasoline in mice wave {it only takes a few seconds} pour in and swirl around to fully coat. Although the plastic is smooth so you might not need vasoline
Answer

this Question