June 25, 2011
3

found this helpful
They have a name but it is hard to pronounce, Ceratopogonidae and they are a pest that is in large numbers because of all the wet weather. They are some small but they bite and we feel it! http://www.accu … g-tiny-bitin.asp
I am going to try the new Cutter Eucalyptus Repellent. Here is their link for more products they have.
http://www.cutt … trepellents.com/
Skin so Soft from Avon may repel them too, I guess you put it on your skin when you go outside.
Here is an article discussing which vitamins and other ways to repel no seems. Also to note that B6 sometimes causes reactions of behavior in special needs kids, just a note from my experience, but B12 is great. Also sugar in the blood attracts mosquitoes, sad but true, if you are going outside, don't make yourself sweeter then you have to be around bugs.
http://www.eart … insect_bite.html
Good luck, and I know how you feel!
Robyn
June 2, 2014
0

found this helpful
I hate these bugs, in Memphis they were orange, here in Kansas I see more black ones, could not be in the pool at all today from being attacked from them the baby had so many on his cloth floatie, I got some pictures of them when we got out, this is zoomed in alot.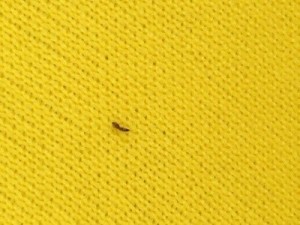 June 20, 2014
1

found this helpful
Does anyone know what these are? They are about the size of half a gnat and bite like crazy but don't leave a mark. No one else in my family gets bit by them. I have tried bug spray and skin so soft nothing helps.
Normally the kids I and I are outside from morning till night but I have no interest in going outside now these things are driving me crazy.
They are not in the house but I noticed them on my porch window so I used a piece of tape to get a picture.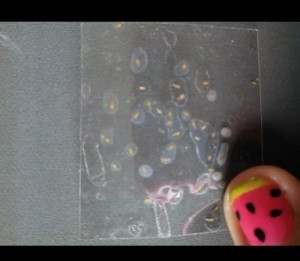 June 19, 2017
0

found this helpful
I have these exactly as you pictured on tape! Did you ever find out what they are? They bite me constantly!
June 28, 2017
0

found this helpful
Has anyone answered this question? I want rid of them! Help!
July 7, 2017
1

found this helpful
I too have the same issue and saw on another site to use peppermint oil. I used a mixture of peppermint oil with lemon juice and water and sprayed them on the pool and it killed them not harming the pool. they also fly so for a few days I sprayed them as I saw them in the air and the top part of my pool and it has helped tremendously. They can't live in water. Once they died they were floating on the top of my pool water but I would much rather them there than biting me. The filter on my pool was able to capture most of them. But this remedy has worked for me. You can get the oils at Walmart by the candles. Hope this helps