August 14, 2009
0

found this helpful
Momma has to buy lots of kitty litter in your house. Ahhhhhhhhh aren't they cute??
August 14, 2009
0

found this helpful
Very cute. Wish I could have more, but our two cats won't let any others in the door!
August 14, 2009
0

found this helpful
When people ask me if I have kids, I say yes. I have a 16 yr old and a 5 yr old. They say sometimes what an age difference and I'm like yup. I have 2 mainecoons, both boys from different litters/homes. Tippy has thyroid issues, but don't let his lively kitten romps and chasing through the house fool you for as old as he is, then there is Blackjack who is 5 yrs old and is my baby. I've had BJ since he was 2 months old, Tippy since he was 4 yrs old. Tippy was to be the only cat in the house, till I brought 2 kittens home. Wrong time, bad choice as the 2 kittens stressed Tippy out bigtime and $700 later as he had to spend time in the feline clinic.
So I told my Mom that one of the kittens had to go, he found a home through the emergency vet clinic. Blackjack is pure black, gives me wet nose kisses at night before I sleep, wakes me up for more attention, whereas Tippy wakes me up at 3 A.M.for attention. I'm so glad that doesn't happen often, because I would be closing my bedroom door . . .but what if it's an emergency and they can't reach me to save my life. These 2 are my life and I love them so much, spoiled with lots of love, toys/treats and a trip to see their human grandmother in the nursing home.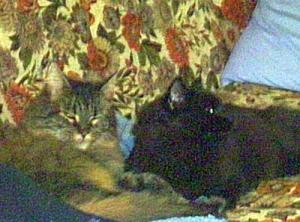 August 16, 2009
0

found this helpful
What lucky cats to have such loving and safe home.
August 17, 2009
0

found this helpful
Aww, they are beautiful! I have 4 cats. Molly who is my first, a Maine coon, who is 6 yrs old. Sam who came from the country is almost 1 yr old tabby. Lacy is all white with a grey streak on her head and the baby is Candye 3 mos old.
Molly I adopted from the Humane Society, the rest were rescued cats. I thought I had a lot of cats, but you got me beat. They're all so special and have their own personalities. Thanks for sharing your pic with us.