By guest (Guest Post)
February 19, 2009
0

found this helpful
Best Answer
I got tons of vases for flower centerpieces from yard sales for cheap.
I bought white "Christmas" lights from hobby lobby for cheap.
A lady I work with is catering with simple finger food type of stuff.
I am having my wedding at a local national park, the total fee is $180. The ceremony will be under a huge oak tree and the reception in their little lodge. Since we're saving so much money in the rental fee we can spend a little to make it really nice and personalized to us.
My dress is from David's bridal. They have sales a couple times a year.
I found a string duo to play for the ceremony for only $310.
We booked our DREAM honeymoon through expedia.
We printed the invitations ourselves and bought everything separately but I think it would have been cheaper to buy a kit, all the different costs add up.
I borrowed my sisters veil and I am doing my own hair (tutorial on youtube user name "ilovegerardo" has some really cute and classy retro type of hairstyles).
I bought ribbon for flowers and invitations out of dollar bin at Michael's.
From eBay I purchased: my garter, hair accessories, paper lanterns, paper for invites, envelopes.
I found the perfect earrings for 75% off on the day after thanksgiving.
Ask around! I'm sure girls you know have stuff left over from their weddings which you may be able to use. I was given 2 aisle runners, wedding rice and bubbles by a friend of my future mother in law.
I know in Florida we are getting money off the cost of our marriage license since we did pre-marital counseling with our pastor (which we really would have done anyway).
I hope you have the best marriage ever!
By guest (Guest Post)
March 1, 2009
0

found this helpful
Best Answer
I made a cute table centerpieces from thrift shopping for cheap vases, and wine glasses.
I got a lot of different wine glasses and put them upside down with the cheep candles you can buy in a bunch, some clearance ribbon, bought roses and flowers in bunch and pulled off the flowers, and carefully glued everything to mirror tiles from Menards.
It was just a bit more than $4 per table when I got it all put together. This is a sample of what I had.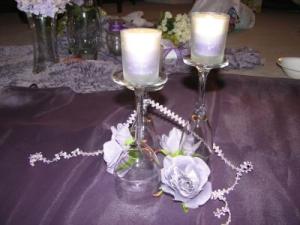 October 24, 2009
0

found this helpful
A great way to make your a wedding look like a million dollars without spending that much (of course) is by sprucing up your tables, aisle pews and other areas with DIY flower arrangements. I used to work at a wedding event company and they would buy flowers from local wholesalers and flower farms, and make really extravagant looking arrangements. It was funny, though, because they used a couple of folks who really weren't florists but the arrangements were simply enough such that anyone could do them. It's amazing to see what roses, hydrangeas, and other flowers could be made to look like by only spending a few minutes trimming them and putting them together. I would highly recommend going out and buying a sample of flowers before your wedding, working them to see what you can do, and if you feel comfortable, buying them in bulk for your wedding. If you're not near a local wholesaler, you can always resort to an online wholesaler such as http://wholeblossoms.com. Good luck!