January 31, 2010
0

found this helpful
It would be very easy to make them yourself! You could use any flower that is complementary to your colors and dress style. Roses are more formal, daisies, gerbera daisies more casual. Talk to the florist about colors, hardiness (don't get anything too fragile), etc. Find out what kind of flowers will be available for a good price at that time of year.
Gather them together arranging nicely, cut the stems off the same length, and use a nice ribbon to wrap the stems, finishing with a knot or bow. It couldn't be easier! Google "nosegay" and check out some pics. You CAN do it yourself and they'll be beautiful!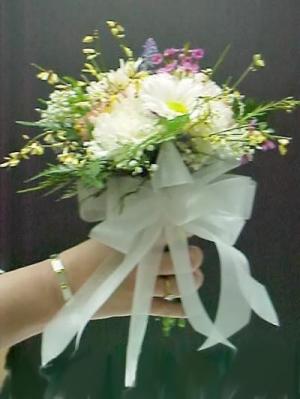 February 1, 2010
0

found this helpful
As a silk wedding flower designer and certified wedding planner for over 10 years, I have a couple of suggestions and tips for you. I would suggest creating a simple hand-tied bouquets. To be more formal, reduce the amount of greenery and choose a single large bloom and accent with baby's breath or stephanotis. For a more casual look; grasses and mixed smaller blooms work well.
Also, you have 2 basic color scheme options when creating bouquets. (1) Make all the bouquets the same in terms of flower colors and mixes, but perhaps make the brides larger in size. (2) Make the brides bouquet different by style, color, and/or flowers, yet all the bouquets should look complimentary. So if for example your bridesmaids are wearing Victorian lilac, than reserve that color for the brides bouquet and use the remaining colors in the bridesmaid bouquets. This way the bouquets will stand out on their gowns and match the overall wedding color scheme.
To stay within your budget here is what I would suggest for flowers and colors. If you have access to a Sam;s Club or Costco they are happy to order bulk flowers for a great price.
Baby's breath & Stephonatis in white as accent flowers.
Roses (Lavendar)
Hydrangea (periwinkle)
Alstroemeria (purple)
Carnations (Purple) - these in mass look really high end.
If you have further questions, let me know. I am glad to help. Congrats on your upcoming wedding. I wish you continued succes in your planning.
February 1, 2010
0

found this helpful
here is a very good web site to go to that will help you out with alot of things for your wedding. Hope everything goes well for you! http://www.bhg. crafts/weddings/ Sandy
February 1, 2010
0

found this helpful
For my daughters wedding I made the bouquets, something I never did before. All were made the same way but each girl had a different number of flowers. The handles were made using toilet paper tubes. I covered them first with thin white fun foam, then with wide white ribbon. Then using a 1/4 ribbon I wound that around the tube with space between each wind around the tube.
I used a bit smaller ribbon and made tails to hang from the bottom of the tube. The flower girl had 5 flowers, the jr. bridesmaid had 7, the bridesmaid had 9, the maid of honor had 11 and the bride had 15.
The tubes themselves are free, and the ribbon I bought when there was a sale. All the flowers were bought on sale at a craft warehouse type store. Every one wanted to know who did the flowers. My daughter had fun saying they are fake and my mom made them. They were a big hit.
February 3, 2010
0

found this helpful
Congratulations on getting married and wanting to keep costs down. If you don't mind silk flowers, you might want to consider using some mixed with real flowers. I do this when I get a fresh bouquet from the florist. As some flowers don't last as long as others, i.e., roses, delphinium, daffodils, etc. I replace the droopy ones in the bouquet with silk ones. It prolongs the life of the bouquet and it looks just as fresh one week or more later.
I keep a box of silk flowers I've used in my bouquets ready for the next one I receive and always have something on hand to replace wilted ones. Specific flowers in your colors may be hard to find fresh and would be very expensive such as lilacs for example. You could purchase silk lilacs and mix them in with fresh daisies, carnations, mums and even roses.
There are a lot of real-looking silk flowers on the market now and you may be able to get them 50% off with coupons from Michael's or Jo-Ann's. By only using a few silk ones mixed with a lot of fresh, the whole bouquet will look like all fresh flowers. You could experiment by doing just one this way and see if it will work for you. Good Luck
February 10, 2010
0

found this helpful
Congratulations on the upcoming wedding. If you are fine with artificial flowers I would suggest checking out Wedding & Party Scrap. You can view their products at www.weddingandpartyscrap.vpweb.com. I got my wedding flowers from them and they were great. Everyone thought they were real and it was very inexpensive! This is a photo of my wedding flowers from there.