Great fun for party treats or for packaging small gifts!
Approximate Time: 15 minutes
Supplies:
tissue paper or gift wrap
tape
curling ribbon
card board tube (from gift wrap roll/toilet paper or paper towels
candy or other small treats
Instructions: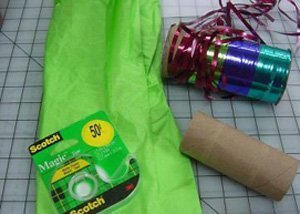 Cut a paper roll in half. How large a cardboard tube you need will depend on the size of the treats you plan to include or the size of the gift you plan to wrap using this technique. The example was made using a toilet paper roll.
Cut a piece of tissue paper or gift wrap paper large enough to wrap completely around the tube with enough extra paper at each end to tie with curling ribbon. (When placing the cardboard tube on the paper, leave a half-inch space between the rolls. This will make the breaking open of the popper easier for the recipient.) Secure the paper with a piece of tape.
Secure one end of the tube by twisting the paper and tying with a length of curling ribbon. Insert the treats (candy, small toys, stickers, etc. or small gift) and close the remaining end as directed above using the curling ribbon.
If plain tissue paper is used, the outside can be decorated with stickers or a hand-drawn design. If making these for a party, simply place the poppers in a festive bowl. This can be used as a table centerpiece or "served"to guests at the proper time!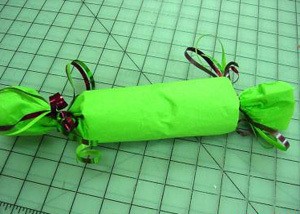 Pam from McMinnville, TN