November 17, 2010
0

found this helpful
We bought ours from Bed Bath & Beyond with one of their coupons a couple years ago. I did a search, but don't see one exactly like it available. This is the closest, except it doesn't swivel:
www.bedbathandbeyond.com/product.asp?SKU=16026212
It's just one sided, and stands close to the wall (we don't have much space, and the carousel types take up too much room), and it holds 25 cups. If we didn't have this one, I'd consider the drawer kind. It wouldn't take up more space since the machine sits on it, and you just close the drawer and they disappear!
www.bedbathandbeyond.com/product.asp?SKU=17470116
November 18, 2010
0

found this helpful
I don't know the dementions, but would they fit in the holes of one of those spice carosels?
Here is a metal one but you can find the wooden ones often at thrift shops.
Good Luck!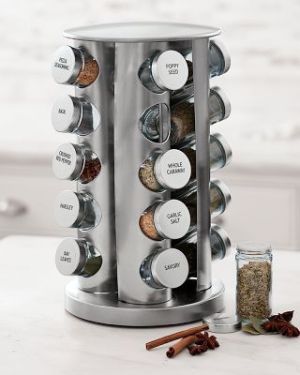 November 19, 2010
0

found this helpful
Keurig just came out with a storage drawer that you put under your machine; it holds 36 k cups! It's great, takes up no room, and since we use the small machine, there is room on top of the drawer for a sugar bowl and a container for sweetener packets.
I used my 5.00 off coupon from BB&B, so it ended up costing just under 20.00. Check it out at BB&B either online or your local store.
November 19, 2010
0

found this helpful
I bought the Breville one that Mrs. Story did too, also at Bed Bath and Beyond with their coupons. By the time you find an alternative that works, you will probably spend the same amount of money that you would have for the item that was meant to be used. If you are trying not to spend money, then stick with the bowl!
November 20, 2010
0

found this helpful
What about a wooden cigar box? if you search Google Images there are many beautiful designs.
September 30, 2014
0

found this helpful
I only purchase two different types and I store them in a pretty wicker basket that has a fabric liner. I think it's much prettier than the holders on the market.
January 23, 2017
0

found this helpful
I bought a wire basket that had four sections in it in the bath department at Walmart, I stack my Keurig pods in each section and put it by my Keurig coffee maker..