April 29, 2009
0

found this helpful
I wouldn't serve the core (center tube) of the pineapple - it's usually fairly woody and inedible.
April 29, 2009
0

found this helpful
Every summer, I make a fruit bowl, using a long watermelon I scalloped the edge or sides and also carve a handle and fill it with fresh fruit. Anita S. in Olean, New York
April 30, 2009
0

found this helpful
How about anchoring one of your tubes(maybe the middle inedible one) with a long wooden skewer to a platform of Styrofoam and then use toothpicks to decorate it by anchoring(at an angle) grapes, cherries, or other mini pieces of colorful fruit to sort of make a fruit tree? You could even make cantaloupe or watermelon balls or other shapes to add to the color and interest. I think I may give it a try next time I buy a pineapple myself. You could easily decorate the Styrofoam with parsley or other greens or more fruit for that matter. Have fun! Frugal Freida
May 1, 2009
0

found this helpful
Hey brittsmama! Congrats on the marriage ;) Have FUN with the wedding. I have been doing a knock off of the famous Edible Arrangements for friends and church functions and it is truly a hit every time. You've got the right idea, just keep playing. Incorporating a few metal cookie cutters and sticking the fruit in wooden skewers, then anchor them into a lettuce head hidden inside a plastic lined basket or glazed pot.
fill in any gaps with kale.
The fruit can be made a day in advance and even the kids can help. Note: use fruit that doesn't brown. I have used kiwi, mangoes, pineapple, grapes, strawberries, watermelon, cantaloupe and honeydew.
The best part is there is no waste! the "fruit scraps" go in the freezer for smoothies, a quick snack or to flavor my water and I toss the fruit rinds in the garden as compost ;) Here is a pic of my first basket.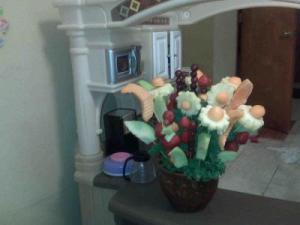 May 2, 2009
0

found this helpful
Congrat's on the up and coming wedding. Your on to something with your creative way of carving your pineapple. I also enjoy fruit and vegetable carving, I would send some pictures if I knew how:~) zzlking did a great job on her first basket and as she said, you can place a head of lettuce in a basket and then attach your skewers. I am sending you some of my favorite links. I purchased a fruit carving kit at Big Lots for $5.00.
All you really need though are some long wooden skewers and a v-shaped serrated cutter, and some cookie cutters. So here they are, lots of great ideas. Once again Congrats
www.watermelon.org/watermelon_carving.asp
www.thisismyindia.com/women/vegetable-carving.html
www.ediblearrangements.com/
www.fruitcarving.com/gallery.html
http://www.chif elon-contest.htm
If you google " Fruit Carving Techniques" you will find all kind of web sites with great ideas. Stormy Seas/ Texas
May 3, 2009
0

found this helpful
You guys are great, and full of ideas!! zzlking- did you use a pastry cutter for the 'crinkle cut' design?? It looks great! Also, we were using the center of the pineapple for a display as it seems strong & solid (we would never eat it, lol).
I bought some more fruit (melons, kiwi, etc.) to practice with this week. Wish me luck! I'm not sure if the melons will be too soft to attempt the fruit tubes with or not. Also, I bought a few metal tubes of various diameter- we'll see how they work...
Here's a basic picture showing what I did with the pineapple, for those that might be confused as to what we are saying. I took a hammer and pounded a cannoli tube into the pineapple to get fruit tubes.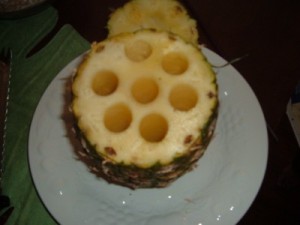 May 26, 2009
0

found this helpful
Did you know that you can hull strawberries with a firm plastic straw? It is cleaner and neater than hulling them by hand. Melt some chocolate chips in the microwave for a minute or so; dip the strawberries in and set on waxed paper. Everyone loves chocolate dipped strawberries! And so very easy!