This is a garden area I'm working on to dedicate to pen-friends in prison that I write to.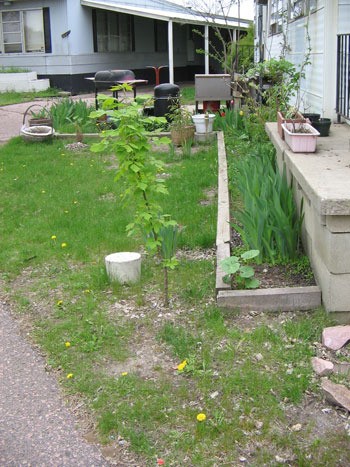 What area looked like before.
Next step to dedicated garden area. Garden's name is "Rays of Hope". I also wrote a theme poem to go along with the garden.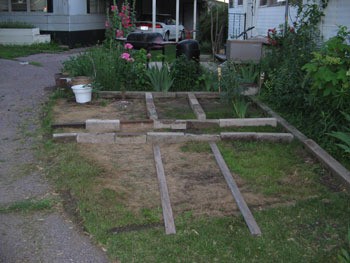 Laying the plastic down to kill off the weeds. Should have used black plastic with cardboard or newspaper laid out underneath to kill weeds off better.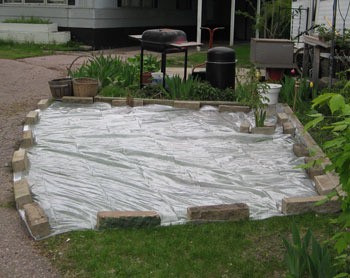 Next steps of to prepare soil for "Rays of Hope" garden. Sorry, I don't have a photo doing this.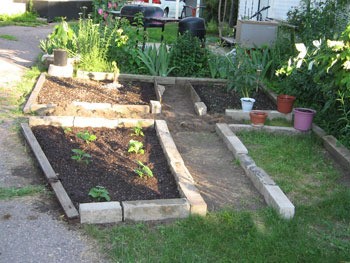 Remove plastic, dig up soil and rake grass, weeds, etc. out. Add top soil, potting soil and re-use dirt you dug up. Then rake all smooth.
Planted acorn squash and mixed up all kind of vegetable seeds with soil and spread them out in this area and will be doing the same thing in the area next to it.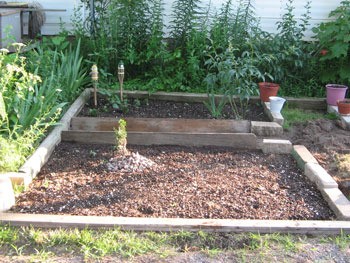 Side view of top section of "Rays of Hope" garden. Planted blackberry vine, cranberry hibiscus and also mixed all kinds of flower seeds with soil and spread out in both sections after plants were planted. On inside rows along board by walkway, I planted a row of strawberry and blue Indian Corn. The outside by driveway, I planted a row of Sunflowers to make a Natural Border to resemble a fence.
After plants and seeds were planted. I still need to get some round log sections for walkways and fill in with more soil. After that I'll surround the sections with white landscaping rocks. Once the plants start to grow larger I'll lay down two colors of mulch bark (red and gold).
At the top side sections by the driveway will be the entrance with a small trellis type archway that I will plant climbing roses on the outside of the archway and hang a plant from above. Then I'll make the name of the garden on a wooden plaque that I'll have nailed to a wooden stake off to the side of the archway. I will also make another wooden plaque sign with the theme poem "Ray of Hope" attached to it. I'll also have markers for each person I write with information and a photo attached to it.
By Sunflower from Sioux Falls, SD