December 22, 2004
0

found this helpful
I made one of these in the 1970's too. My pattern wasn't directly from LeeWards but was a version of it. A couple of years ago I used this as a lesson plan for adults to take home to their children. I have the pattern somewhere. It is a green felt Christmas tree and on long piece of white felt. We stitched down the tree and used striped grosgrain ribbon in rows to form the pockets for the ornaments. Along the bottom, we added a piece of ball finge to finish it off and made a pocket at the top to hang it from a small wooden dowel. The ornaments are made out of felt too. If you are interested, please respond and I will find it after the holidays and get it to you.
By Rabbithorns (Guest Post)
December 27, 2004
0

found this helpful
Just recently I saw a pattern for one just like it at JoAnn Fabrics. They had free handouts by the register with various projects and this was one of them.
By Pam Davis (Guest Post)
March 30, 2005
0

found this helpful
Lady Claire, I would love a copy of that pattern. My sister, brother and I made this with my Mom when we were growing up.
My Mom has misplaced it and I wanted to make it for their families again. My email address is pamdavis3474 @ juno.com (remove spaces)
By Ladye (Guest Post)
August 15, 2005
0

found this helpful
http://www.marymaxim.com has lots of crafts similar to Lee Wards.
Hope you find what you are looking for.
By amy and chad (Guest Post)
December 11, 2005
0

found this helpful
For those less talented... you can buy one through Restoration Hardware... www.restorationhardware.com or call 800-762-1005... they sell for about $60.
By Chris in IL (Guest Post)
December 28, 2005
0

found this helpful
Erin in NH - Wondering if you had any luck finding the LeeWards Christmas Advent Calendar pattern or any info about purchasing materials? I am also so hoping to re-make one I had as a child for my children. Any info you can give me would be greatly appreciated. Thanks!
By kim (Guest Post)
April 25, 2007
0

found this helpful
i have been looking for this calendar as well . . . my family had it when i was a child & would love to recreate it for my girls.
did you have any luck finding a pattern for it? i would love to find it! thanks - kim and tom @ att. net (no spaces)
December 13, 2007
0

found this helpful
two full Lee Wards advent calendar kits from 1976 on ebay two weeks ago... both went for over $50 each. I want one as my dad lost the one my mom made.. but couldn't bring myself to pay that much for one.
By Pamela (Guest Post)
February 22, 2008
0

found this helpful
I have the calendar, my Mom made it for my children, definitely Lee Wards I have reproduced it 4 times so far. Ours is a green tree on long red felt. It doesn't have bear/house but great ornaments. I could send you a picture if you want. You would have the look and it would be easy to reproduce I just copied the original ornaments and attached the beads and sequins.
there were too many ornaments so I changed a couple to a package and a sleigh. You don't really need the kit just find pictures of things you like cut them out of felt and decorate the way you want to. My adult son & his wife use to fight over who put what on the tree. Now their kids get to do it.
By (Guest Post)
December 6, 2008
0

found this helpful
I made one in the 70's and fortunately still have it. This year I traced the ornaments to make patterns and with the help of my daughter have made three calendars for my grandchildren. If you could find a picture of the old calendar I'm sure you could duplicate it. How I miss Lee wards!
By khill (Guest Post)
December 19, 2008
0

found this helpful
Hi - if this is what you're looking for, I'm also interested in the patterns for the ornaments, (the puppy ate the camel and santa claus). I'd be more than willing to share dimensions, etc. 19Dec2008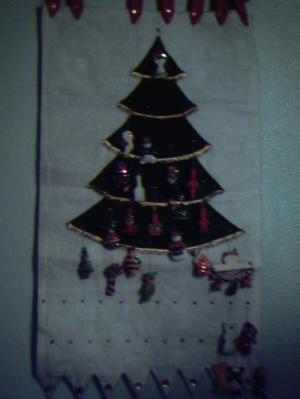 October 15, 2009
0

found this helpful
I am also looking for this pattern, and I would really, really appreciate any patterns, photos, or other information that anyone could share. I would like to create a pattern/tutorial to post and share with others that would like to make this heirloom for their families. It is SO hard to find. My email address is shannon.naan AT yahoo.com
Thanks!
December 2, 2010
0

found this helpful
I actually made this calendar in the early 70's, still have it. Although I made a new tree a few years ago, the ornaments are still original. My always-saving-things mother tucked the instructions and patterns away, still have them too. I am willing to scan and send them to anyone who is interested. Email 8tzmom@gmail.com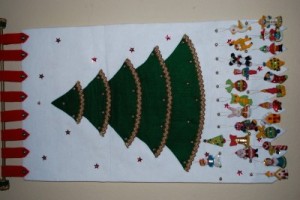 December 16, 2015
0

found this helpful
I too made this calendar when my 45 year old daughter was a baby. I gave it to her and she has placed it on the wall for my grandson for many years.
There fairly young dog has found a way to get at the ornaments and has chewed up two of hem. Yes I would love just the ornament pattern to replace the chewed ones.
qbwalkden@yahoo.com