By guest (Guest Post)
May 14, 2006
0

found this helpful
http://www.sewi vestpattern.html
I have used this pattern for my 2 chi's. I just made them out of fleece. Maggie is very round and Jackson is very thin and more like a minpin. I played around with the pattern to get each of them a pattern to fit.
By guest (Guest Post)
June 2, 2006
0

found this helpful
If you find any, could you please let me know too. I can't find anything small enough. She's only 2 pounds and tiny as can be. Everything I've found sofar is too big :(
By guest (Guest Post)
December 2, 2006
0

found this helpful
This one worked for me!
http://www.sewi vestpattern.html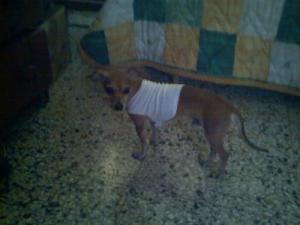 By guest (Guest Post)
March 28, 2007
0

found this helpful
I found that when carmi was small (1 mo ) that a nice warm stocking cut off at the heel, made an excellent body warmer. and I stitched around the bottom so that it would not unravel. it worked great. also an old turtleneck sleeve, using the cuff as the collar, I cut 2 holes for the legs and presto another dress.
hope this helps some.
dot
By guest (Guest Post)
June 15, 2007
0

found this helpful
I went to Hobby Lobby and checked the pattern section and found alot of patterns for dogs. There is some with dresses and coats.
Also we went to a Thrift store and found some premie baby clothes and they seem to fit our chi's really well. Our chi's are 2.3lb and 2.7lb. They are 7 months old.
If you go to a search engine and type in dog clothes patterns you might find some there.
I have made my 2 little chi's some beautiful dresse. Now the people that I met at Pet Smart has asked me to make them for their dogs. I sell each dress for 15 dollars. They are only one of a kind dresses. I never make a dress the same so that you can be the only one that has one like it.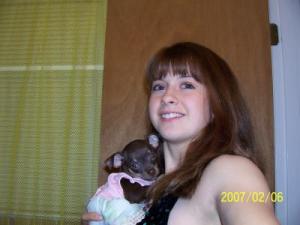 By guest (Guest Post)
July 9, 2007
0

found this helpful
i have been looking for patterns for my cat Grr and there are patterns at the following websites : )
www.bellaonline.com
www.Burkesbackyard.com
www.alibaba.com
Hope this helps : )
Tam
August 26, 2007
0

found this helpful
I would like to know that too. M chi/rat terrier is always cold as well. She sleeps under the comforter with me at night. She sleeps by my feet. If you find any free booties, please let me know. I would go to the ends of the earth for her. Her name is Precious and she is the best. Carole
By guest (Guest Post)
September 27, 2007
0

found this helpful
I am 78 years old and my eyes aren't so good so I am wondering if anyone has second hand cloths (coats mainly for my Chihuahua, mixed with something else. The owner said he would probably get to 7-8 pounds as he is the runt of the litter. Please let me know if you have a couple old coats, I am going to get him in 2 days. thank you Eunice O'Neil granny-b AT comcast.net
By guest (Guest Post)
April 2, 2008
0

found this helpful
I've got a dwarf bunny in the same size range. If you use the circle knitters sold at craft stores and in craft departments (the ones with the pegs) you can make a sweater for any small critter. Just look for a circle about the size of your critter's waist. I can't knit, and I made 2 sweaters for my bunny using this method:
Start by making a short tube for the neck, and then knit around 1/2 of the circle to get past the legs. If you have a girl, then knit a tube to just short of the hip bones. If you have a boy, knit a tube over the tummy, and then knit 1/2 the circle until you get near the hip bones. When the sweater is long enough, you with take it off the loom by looping the last loop back through the previous loop (etc. until you get to the first loop and knot off). All the circle loom books show how to do this. It took me about 2 hours to make a very nice little sweater.
I'm sorry that I don't have a picture - in ascii art it looks like 0-0 (girl) or 0-0- (boy) with the pet's head to the left and the 1/2 circle bits laid over the spine. You can create this look with crochet or regular knitting, too.
I got the original idea from:
http://www.croc m/dogsweater.htm
but my boy's sweaters have an extra flap attached to the back for more warmth.
If you get rid of the sleeves, pet sweaters are easy. I hope you have as much fun making them as I do.
By guest (Guest Post)
April 2, 2008
0

found this helpful
I forgot to mention that the small circle knitters can be used to make knitted booties (tube-sock style) - make sure that you double-loop them for more warmth.
By guest (Guest Post)
December 22, 2008
0

found this helpful
The chihuahua pattern above is great, as it can be sized well. I know I have 3 chihuahuas 3#, 5#, and 13#. It works great. Thanks
January 6, 2010
1

found this helpful
Hello, check on ebay under used dog clothes sz xxs or xs they have clothes by the lots and cute ones, too. For the girls there are dresses, jacket, shirts and pretty cheap also. Best buy
January 6, 2010
1

found this helpful
Check ebay for used dog clothes sz xxs . They have clothes by the lots people sell and they are cheap. Some lots you will get jackets, coats, shirts, skirts, etc. Also if you want little boots look under dog boots or used dog boots, great selection, but measure first so your baby is comfortable. The tie on shoes are a pain, but the velcro closures are good. Look at the stiffness of the shoe, rubber sole on bottom and when measuring their foot include toenails.
February 16, 2011
1

found this helpful
I have a chihuahua/pom mix. She looks like a long haired chihuahua. However she "luvs" dressing up. I go to the local thrift stores & buy 0 to 3 month infant sweaters and alter the. I shorten the arms and if there is a button or zipper, I remove them & then sew the seam that will go on her belly. For boys I cut & hem sew most of the fit it around their chest so when they pee they don't get the clothes wet. My little Sabrins even has "a little black dress" lol.